Welcome to my website.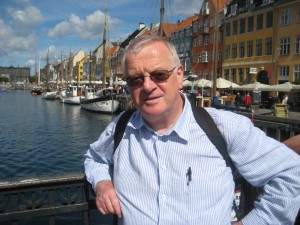 Mae Androw Bennett wedi bod yn cynnal seremonïau dyneiddiol ers 2009.
Androw Bennett has been conducting humanist ceremonies since 2009.
Yn Gymro Cymraeg ers fy magwraeth yn Sir Caerfyrddin, rwy'n barod i deithio i unrhyw le i gynnal seremonïau Cymraeg, Saesneg neu rhai dwyieithog.
A Welsh-speaking Welshman from my upbringing in Carmarthenshire, I am prepared to travel anywhere to conduct ceremonies in Welsh, English or bilingual.
I am now retired from full-time work, having been a qualified solicitor with working experience in private practice, local government, financial planning, the voluntary sector and a period as a company secretary in an industrial sector. With this wealth of work experience in a variety of locations in Wales and in England, I dealt with people from all sorts of community, social and ethnic backgrounds, giving me an ideal training for my current role as a Humanist Celebrant. Although I am a part-time writer (almost exclusively in Cymraeg – the Welsh language), a considerable amount of my time is spent preparing and conducting Humanist Ceremonies.
My home is now in the beautiful Tywi Valley and I mainly conduct ceremonies in South-West Wales, but my being (at the time of writing) the only native Welsh-speaking accredited Humanist Celebrant, I have conducted funeral and wedding ceremonies in most counties of Wales and also on occasion in England. I am, though, quite happy to travel throughout the British Isles and to the European continent to conduct ceremonies with an ability to do so in French and Spanish up to an intermediate standard.
While I was born in Carmarthen, I grew up in Llangennech, near Llanelli, in what was a coalmining and tinplate working village, although the Royal Naval Stores Depot (now largely closed) dominated the village landscape for half a century. I hadn't realised, until I was in my 50s, that I am a Humanist and the journey thereafter has brought me great joy and a fulfilling new meaning to my life, particularly since retiring from full-time work, enabling me to read and study the philosophy in greater depth.
My decision to seek accreditation as a Humanist Celebrant evolved from a sense of vocation to provide help, originally in rural West Wales, but increasingly further afield, for people who wish to have a more personal and meaningful ceremony than tradition dictates. I always ensure that relevant family members and, in some cases, friends, have as much input as they wish in the preparation of a ceremony so that it is an occasion they will recall as being truly representative of the people involved.
I shall be happy to receive your requests for further information on my home telephone number: 01558 668118, my mobile number: 07790 623307 or by e-mail: androwbennett@gmail.com