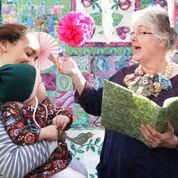 Names are vital parts of our identities, and they launch is into new lives, be they babies' names, post-adoption names or post-divorce names, or transitioning names or marking momentous changes in our lives that we decide to mark with a new name.  So naming ceremonies need to have solemn elements and celebration and party features.  This is why a naming ceremony is such a lovely thing to do as it combines both elements and adopts a really personal touch.
What happens during the ceremony
There are two main elements to a naming ceremony: the giving of a name and the making of promises to the individual whose naming it is.  Elements in the ceremony include:
An introduction which might cover why a humanist or non-religious ceremony, the story of the person receiving the name, family stories you want to include.
Promises of help, care and support to the person being named from the parent(s) and guideparents/godparents/oddparents/fairy godmothers.
The naming itself.
Symbolic gestures.  Many people choose to mark the importance of the occasion with a gesture or activity.  These can include lighting a candle, planting a tree, signing a book, hanging wishes on a tree, having a toast.
Afterwards.  The end of the ceremony can be designed to lead into a party or cake cutting.
You might also want to include some music or readings and I can give you help in choosing these.
Working with me
Here's what we will do:
First we need to discuss the date you have in mind and my availability.  I offer a free and non-committal informal meeting to decide if we want to work together and if we 'fit'.  If we decide to go ahead we move to stage 2.
We arrange a proper in person meeting in a mutually agreeable place and start to discuss your ceremony in detail.  This could include what you would like as readings, who will be the guideparents and what their role will be in the ceremony and so on.  This usually takes around an hour.
I will prepare a draft ceremony which I will send to you for any changes or corrections or additions you would like to make.
When we have a complete ceremony I will produce a final draft and conduct the ceremony with you.
I will send you a presentation copy as a memento of your special day.
Cost
I charge £250 per ceremony, which includes all of the steps above and travel within a certain limit. Travel above that limit or further meetings will cost a bit more, but I would discuss that with you in advance so you know what to expect. Fees are due ideally at the point of booking, but you could also pay a deposit of £25 on booking with the remainder due two weeks before the ceremony.
If you want to find out more, or book a ceremony, please do get in touch.