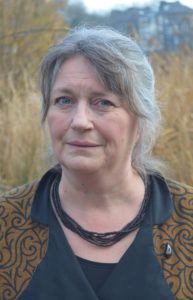 Having worked in end of life care and bereavement support for many years, it felt a natural progression for me to become a humanist funeral celebrant.
In recent years, I have helped develop the provision of non-religious pastoral care in healthcare and criminal justice settings for Humanists UK.  This has given me a heightened appreciation of the needs of those with a non-religious worldview when they are experiencing times of great change.
The humanist funeral ceremony we create will be unique; together we will choose how best to craft a meaningful tribute to the person who has died. We will tell their story with dignity and respect, sensitivity and wit.
With a background in literature and the arts, should you want, I can help you find appropriate readings to support the ceremony. You may decide you yourself want to write the story of the person who has died or you could draw upon my experience in writing and editing to work with you to achieve a personal and celebratory tribute.
It is helpful to have a structure around which to organise the funeral; we may consider using this one, or taking it as a starting point from which we feel free to deviate:
Introductory music
Words of welcome
Thoughts on life and death from a non-religious perspective
The tribute – an outline of the life and personality of the person who has died
Readings of poetry and prose
Reflection – a few moments for private thoughts about the person who has died, either in silence or accompanied by music
The committal – when the curtains are drawn in front of the coffin or it is lowered
Closing words – including thanks on your behalf
Final music
I would be happy if you called or emailed me to discuss your needs. This could help you decide if I am the celebrant with whom you'd like to work. If our discussion makes either of us think someone else might be better suited, or if I am not available, I will use my experience and knowledge of the network to help you find a trusted colleague.
07972 051 429
carrie.thomas@humanistceremonies.org.uk
An interview: