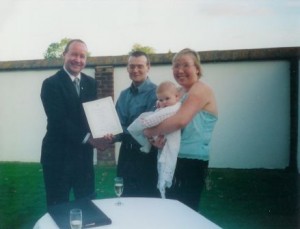 A new person in the world is a special event. It should be celebrated, and amongst the celebrations there should be a bit of formality where the parents make their promises to their baby about the way in which they will endeavour to bring up their child. It is also a chance to bring in some friends to act as mentors, guide parents (even odd parents in one ceremony) as the act of appointing special friends to a role in a child's upbringing will cement friendships for years to come.
It is possible for the grand parents and other family friends and neighbours to participate. A reading perhaps, possibly a poem, or on one occassion a speech by a grandparent from the baby's perspective.
The ceremony can be marked with a certificate commemorating the occassion, and it is a chance to let people know (if they didn't already) how you came by the name and what it's meaning is.
Also, it is perhaps the first time that you will have an opportunity to bring everyone together who was at the wedding, and renew relationships.
I enjoy being involved as there is nothing like a good party, and the arrival of a new person into your life is a pretty good reason to celebrate. I only wish I knew about humanist naming ceremonies when we had our two children.
Thank Yous
Just a short note to say thank you for a wonderful naming ceremony on Sunday. We thoroughly enjoyed it and are pleased to have done it. Fingers crossed, we get to do it all again in a few years….!
SW
Thank you so much for all your help in bringing together another wonderful ceremony for our daughter. We are so grateful and have enjoyed the planning with you.
BH
Just a note to thank you again for your help in conducting our Naming Ceremony and making that day a special day for all the family.
SC