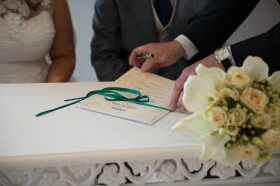 Would the Humanist wedding I conduct for you be legal, you might ask?
I'm afraid not – for now! I am not yet able to conduct a wedding that has any legal significance. For this you will need to visit the Register Office. However, you can reserve all the romantic content – the exchange of vows and rings, for example – for your Humanist ceremony.
I believe there is an overwhelming case to legalise Humanist marriages. Quite apart from the fact that such ceremonies have been legal in Scotland for more than 15 years now (and in myriad other places as diverse as Ireland, New Zealand and Norway) it would 'level the playing field' here in England & Wales. It would give couples like you – with a Humanist life-philosophy – the same choices as couples with a religious belief.
Parliament accepted this view and in changes to the Marriage Act, in the summer of 2013, the government introduced provisions to legalise Humanist weddings in England and Wales. It was disappointing therefore that the government decided, in 2016, to defer their enablement – despite 2014's consultation being overwhelmingly positive.
And there the issue stayed, until June 2017 when the High Court approved the legal wedding of Laura Lacole & Eunan O'Kane, in Northern Ireland – the first legal Humanist wedding in the UK, outside of Scotland.  More encouragement followed in May 2018 from the All Party Parliamentary Humanist Group with the publication of its significant report into Humanist weddings, entitled 'Any Lawful Impediment'.  The report can be found here: https://humanism.org.uk/wp-content/uploads/APPHG-report-on-humanist-marriage.pdf
Frustrated that still nothing was happening, six couples took the HM Government to court this summer.  Today, the High Court judge, Mrs Justice Eady DBE, gave her verdict.  Although she declined to conclude that the government was acting unlawfully, she did rule that "the present law gives rise to… discrimination."  Adding, in light of that, that the Secretary of State for Justice "cannot… simply sit on his hands" and do nothing.  Watch this space!
Notwithstanding the speed and success of these changes, there is a silver-lining in this matrimonial cloud. By choosing a Humanist wedding, you continue to have the option of holding your ceremony anywhere: in the middle of the New Forest, on the banks of the River Hamble, in the gardens of Beaulieu Palace, on Hengistbury Head. I've performed more than 100 weddings in all these places and many others, as well as licensed venues such as Weddings-in-the-Wood and Sopley Mill, over the last ten years.
And when the arrangements in England & Wales are eventually approved, it will allow me (and other Humanists UK-accredited celebrants) to be both Celebrant and Registrar.
~~~ooOoo~~~
David Hewitt   July 2020