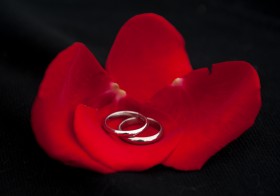 When did marriage become about love?
The BBC ran this headline on its website in the spring of 2012. It was at the height of the debate about same-sex marriage and they were reporting the comments of the Archbishop of Westminster, who said that in all the discussion and deliberation, children had not been mentioned once. I think this gave the game away!  It seems that Christian marriage (at least the Roman Catholic version of it) is only about the procreation of children.
By contrast, love is at the heart of a Humanist wedding. Sure, Humanist weddings tick the same boxes as Christian or civil marriages: they give public recognition to a private relationship and so enable couples to share their commitment to love and their aspirations for a future life together. They capture the ritual that (most) couples want and so carry the necessary gravitas, even a degree of solemnity, but, by the way, they are joyous, celebratory occasions too. Oh and yes, a Humanist wedding also provides a loving and stable foundation for any children that might be brought into the family.
But the distinction, the real beauty of a Humanist wedding is the romance inherent in a celebration that is entirely unique and personal to the couple, because – and here's the crucial bit – I will have spent time getting to know them. In this way, the ceremony will tell their romantic story; how they came to meet and what has lead them into marriage and the lifelong commitment that they will make to each other.
Humanist weddings can be simple or elaborate; they can be relaxed or formal – just as the couple desire. For instance, the bride in a ceremony I conducted recently is an avid Jane Austen fan. Austen aficionados will be familiar with the final paragraph of Emma…  "The wedding was very much like other weddings, where the parties have no taste for finery or parade; and Mrs. Elton, from the particulars detailed by her husband, thought it all extremely shabby, and very inferior to her own: 'Very little white satin, very few lace veils; a most pitiful business! Selina would stare when she heard of it.' But, in spite of these deficiencies, the wishes, the hopes, the confidence, the predictions of the small band of true friends who witnessed the ceremony, were fully answered in the perfect happiness of the union."
This not only encapsulated what this particular couple wanted for their wedding, and reflected very accurately the style of their venue too, but has been a cipher for most of the weddings I have conducted. Actually, none of them have been 'shabby' but they have all most definitely been relaxed and above all they have been free of any formulaic script or liturgy, any rigid template, any received order or way of doing things. Instead they have reflected and captured a style and ambiance described and driven by the couple and brought to life as it were by me, as their celebrant.
If Humanist weddings are not about the procreation of children but about love instead, you might ask: is there a secular context for love and marriage? Well firstly, a wedding is a symbol, a poignant and significant symbol but a symbol nonetheless. It cannot create a relationship that does not already exist and has not already been captured and nurtured in all the quiet commitments that the couple will have made to each other since they first met and recognised their connection to one another.  However, a wedding does open the door to a marriage; sets the compass for a life-long journey.  As George Eliot writes in Adam Bede… "What greater thing is there for two human souls than to feel that they are joined together to strengthen each other in all labour, to minister to each other in all sorrow, to share with each other in all gladness, to be one with each other in the silent unspoken memories."
Edmund O'Neill puts it more succinctly… "Marriage is a commitment to life; to the best that two people can find and bring out in each other." It's these words of Simone Weill though that hit the Humanist-wedding-'vibe' nail on the head for me… "Lovers desire two things. The one is to love each other so much that they enter into each other and only make one being. The other is to love each other so much that, having half the globe between them, their union will not be diminished in the slightest degree." 
Let me now contradict myself. Having said that each Humanist wedding is different, they nevertheless share a common 'spine'. As well as thoughts on love & marriage from a secular point of view the elements of a 'typical' Humanist wedding ceremony might include for instance a period of reflection, perhaps to think about absent family or friends, the couple themselves or more generally about the power of love. They might include rituals such as sand-blending or the lighting of unity candles and almost always contain an exchange of rings. I lead a ceremony last winter, in which the couples had made their own wedding rings – at a workshop the previous summer. Not only was the exchange so much more heartfelt because of this, but at the beginning of the ceremony, they threaded the two rings onto long ribbons that wound around all the chairs and asked for the gathering to see the rings, touch them, feel them and 'bless' them. I will come back to 'blessings' later. Incidentally, the circle of the rings, with all their symbolic representation of wholeness, strength, co-operation and peace, was echoed in a circular seating plan.
Or how about hand-fasting, the most ancient of rituals? It allows a couple to literally tie the knot. How does it work? As they speak their vows two (or more) ribbons are alternately and lightly draped over the couple's joined hands. Once complete, I take the loose ends, tie a knot and as the couple release the ribbons present them with the fastened braids – a permanent memento; a symbol of the strength and longevity of their love.
However, at the heart of the ceremony are the vows. In Humanist weddings a couple will make promises to each other in exactly the way they choose. Some couples have simple 'WE DO' vows that are the same for both partners; others have long, detailed commitments that are different for each partner, and which they may declare themselves. I have lead one or two ceremonies where couples have had a kind of hybrid in which the core vows are shared and prepared between the couple ahead of the ceremony, but a final, highly personalised, sentence of commitment is delivered by each partner, with the other hearing it for the first time on the day itself.
Even more personalised than this are what I call 'love letters'. Prepared separately and confidentially before the wedding, on the day itself they each say some words that speak to what attracted them in the first place, what attributes brought them together and what foibles, characteristics, behaviour, whatever, will keep them together as they embark on this life's adventure called marriage. It is often the most romantic part of the ceremony.
The ceremony might be brought to a close with a 'blessing'. Now, blessing can be a difficult word. Like 'spiritual', it creates some angst amongst some secular celebrants. However, if we accept that one of the underlying premises of a secular wedding is to share vows and commitments that will be witnessed by family and friends, then it is natural not only to have those promises affirmed – often loudly and enthusiastically – by that gathering but also to round out the ceremony with some heartening words of support and encouragement, advice and inspiration even; in other words, all the ingredients of a secular 'blessing'. I haven't yet found a suitable, alternative word; and in any case in my view it seems an entirely appropriate, indeed a perfect way to conclude the celebration.
Such closing words might be a non-religious rendition of the Celtic blessing… "May the road rise to meet you; may the wind be always at your back; may the warm rays of sun fall upon your home; and may the hand of a friend always be near." Or they could be drawn from wider cultures, such as this extract from a traditional Apache blessing… "May beauty surround you both in the journey ahead and through all the years. Go now to your dwelling place to enter into the days of your togetherness. May happiness be your companion and your days together be good and long upon the earth." Whatever words or readings are used, like everything else in the wedding, they will always be chosen and/or 'approved' by the couple themselves.
Let's linger for a moment on the legalities. The quirks of English matrimonial law preclude me from performing a marriage ceremony that carries any legal significance. If couples want this, they will need to visit the Register Office perhaps the day before. Already permitted in Scotland, the BHA is campaigning for a change to the law that would allow the legalising of Humanist weddings in England and Wales too. Lord Harrison has introduced a Private Members' Bill into the House of Lords that would sanction certain charitable organisations – including the BHA – to solemnise marriages.
Notwithstanding the success of these changes, every cloud has a silver-lining. By choosing a Humanist wedding, couples can hold their ceremony anywhere: in a field; on a boat; at the top of a mountain or on the beach. They can even hold their Humanist wedding in a licensed venue. I lead a wedding on one occasion that was a combined civil and Humanist ceremony. The couple wanted a Humanist celebration for all the reasons I have described, but couldn't find the right circumstances to hold a separate legal ceremony. So we held both ceremonies back-to-back; but not without the two registrars pointedly leaving as my part of the day began – even though they could be sure there would be no religious content in my bit!
In summary, a Humanist wedding ceremony is focussed not on God, but on the couple and the family and friends they will gather around them to share in and witness their public statement of commitment to each other. They get a ceremony that is meaningful and dignified, yet warm and romantic and above all personal, reflecting their love for each other and their hopes and aspirations as they set out on this life's adventure called marriage.
~~~ooOoo~~~
 © David Hewitt
Adapted from an article first published in HumanistLife in July 2012