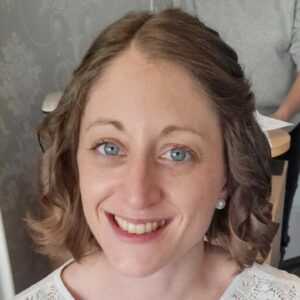 I love being a celebrant as I have a genuine interest in people, their families and their stories, and I am passionate about creating unique and meaningful ceremonies to celebrate life's moments! I live in Otley with my husband, 3 year old daughter and 4 year old Bedlington Terrier. I also work part time as a GP.
Humanist naming ceremonies are a unique, personal and non-religious way to welcome a new addition to your family. This may be for a new baby or for an older child, or both! It may be to celebrate an adoption, the joining together of families, or a transition in your own life.
You don't have to be a Humanist to have a Humanist ceremony – many people are simply looking for a ceremony which is non-religious, personal and inclusive.
I believe it is important for people to be able to mark important milestones in their lives in a way which is meaningful for them. There is no set template or formula, and there are no rules! I will spend time getting to know you and your family. Each ceremony is highly individual and written from scratch just for you. You can have as much or as little input as you wish.
Elements of a naming ceremony which are often (but do not need to be!) included are:
Readings or poems
Music
Symbolic gestures
The appointment of guide parents
Parental and/or guide parent promises
If this sounds like it could be for you, please get in touch. I would love to hear from you and help you plan something special!
Please be aware that I am on maternity leave as of May 2022 and will not be able to take any ceremonies before Spring 2023. If you are planning a ceremony from Spring 2023 onwards, please do get in touch!
Testimonials
"Thank you so much for Saturday. It was just magical! The ceremony was so wonderfully personal and just perfect – exactly what we were wanting! So many of our friends and family commented on this too, even the very skeptical great grandparents!"
"Hannah was fantastic at communicating through zoom and email – she really listened and made the ceremony so personal. It was exactly what we wanted. She also guided and helped us add extra parts to make the day really special. Thank you. Hannah was great on the day – a lovely calm manner, she spoke to our guests and was very professional. We were really pleased with how it went and how Hannah lead it. We have had so many friends compliment us on the ceremony and how lovely it was. Thank you Hannah for making it possible."
"It was a lovely afternoon – thank you so much, we have had so many people say they'd never attended a naming ceremony before and how good it was. We were so pleased with how it went and we are so glad you could do it for us."
"Thank you so much. Hannah was fantastic – she understood exactly what we wanted and the script was beautiful. Great communication throughout."
"Hannah really made me feel comfortable and at ease."
"Hannah has a lovely warm manner."
"I loved Hannah's storytelling. She really captured the story and retold it with a lovely flow and prose which took the audience on the journey with her."