Though I know I'm biased, I think humanist weddings are wonderful.  Each one is truly unique, personal, happy and genuine, and usually funny and warm too. 
To me, being a wedding celebrant is about helping a couple create a ceremony that best reflects them and their values.  After all, every relationship is different and marriage means something slightly different to each couple.
We wanted to write and say thank you so, so much for making our wedding ceremony so truly wonderful and personal. Thanks for your intuition about the structure of the ceremony and for your calm and reassuring presence during it! We are so happy we found you to do it!
Why have a humanist wedding?
People choose humanist weddings for many reasons.  Sometimes it's because they want to get married in a particular location, particularly outdoors.  Sometimes it's because they want a 'second' wedding, for example if they have already had a legally binding ceremony overseas.  And often it's because a couple are looking for flexibility to have a sincere and personal ceremony, their way.
 Thank you so much for helping to make our day so special.  It was exactly what we had imagined.  Everyone loved the ceremony and people have said it's one of the best weddings they have ever been to!
Getting Started
Whilst some couples know exactly what they'd like from their wedding, more often they come to me with a broad idea about the general approach they're looking for… and a much stronger sense of what they don't want!  Likewise some people want a fairly traditional structure to a ceremony that's more personalised than a standard civil ceremony, others want something else entirely.
Any of the above is just fine with me.  I'm happy to give as much or as little input as is needed to help you make decisions about issues such as music, readings, involving guests, symbolic actions (e.g. handfasting etc.) or writing promises.
Getting creative
I'm delighted to incorporate new ideas and will try anything once! For example, I've conducted a wedding on top of a narrowboat, have had Superman swoop in to save the Best Man who has 'forgotten' the rings and ad libbed when a couple's dog chose to get a little too friendly with a pumpkin during their vows… I love a good sing-along within a ceremony and will happily advise you what might and might not work for your choice of track. I've conducted weddings for five guests and one that appeared in 'Hello!' magazine, and been overseas, down in the woods, in hotels, village halls, farms, people's homes, castles, glamping sites, barns, public parks and the beach.
We had so many people saying that the ceremony you took for us was excellent, touching, warm and perfect for us. Thank you very much for making our day so special.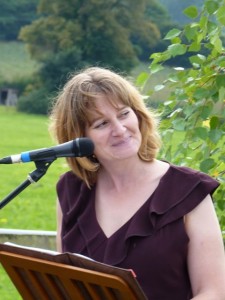 My Approach
One of the joys of my job is getting to know people well and by the time the wedding comes around we'll have a pretty good idea of what makes each other tick!  I (hope!) I'm friendly and open-minded and genuinely want you to have a wedding ceremony that's perfect for you.  And so in addition to the initial planning meeting, rehearsal and the day itself, we'll have as much email and phone contact as we need.  Creating the ceremony is an ongoing process; it evolves rather than 'happens' in pre-defined stages.
We are still amazed by how you got to know us so well in such a short space of time and managed to express for us everything we wanted to say!  You have a true talent for this work. We're so glad we found you.
Choosing a celebrant
When you are going to the effort of organising such a personal wedding, it's essential you are really  comfortable with your celebrant.  I recommend that we talk on the phone or meet up for a no-obligation chat before you decide whether you'd like to book me.  If you contact me by email, please let me know what date(s) you are considering.
Fees
From 2022 my charge for weddings within an hour's drive of home (Cheltenham) is £650.  This includes a detailed ceremony planning meeting, drafting and editing the script, a rehearsal and my travel.  I ask for a £200 non-refundable deposit to book the date and the balance is payable two months before the big day. I am happy to work further afield, including overseas, for expenses at cost and a small additional charge.
We've had so many compliments about what a wonderful ceremony it was and how good you were.  People really liked the happy, relaxed feel, the guitar and singing – and the fact that it was something different!  We just loved it, it was perfect!