Hello, and thank you for looking at my web page. Please click on the video above to get a sense of my presentation style and hear about how I work.
'We're really glad that we chose you to do the ceremony, we felt you really got us and that was reflected in how personal the ceremony was. Thank you.' 
The fact that you have found your way here means that you are exploring the idea of having a wedding ceremony that is a bit different. Good for you!
It is so important that your wedding should be a true representation of your values and beliefs as a couple, while honouring the traditions and rituals you were each brought up with.
I have six years experience of conducting wedding ceremonies and now have the pleasure of supporting and mentoring new wedding celebrants.  By meeting with you  and talking about your relationship  I  am confident that I can can create a ceremony that is 'really you'. We can adapt what I write together  so that it incorporates the right balance of novelty, tradition, fun or solemnity that works for the two of you.   The final product will be  a script that will make your guests feel they are taking part in something heart-warming, personal and really special.
My work in the NHS has always involved me supporting and guiding people at key moments in their lives, as well as allowing me to develop my pubic speaking skills over almost 30 years.   I find I use many skills as a celebrant that are also part of my professional role.  I love so many different aspects of  conducting wedding ceremonies:
Helping both the couple and the guests feel looked after, welcome and in safe hands.                 
Writing with poetry, humour and a sense of occasion.
Helping the couple tell their story.
Leading the ceremony on the day.
My aim is to deliver every wedding with warmth, humour and a genuine sense of delight in the occasion and affection for those involved. I am very proud of the testimonials from couples over the years (please see the next page, 'Kind Words', for a selection).
While religious faith is not part of a Humanist wedding, I am happy to help you include elements of your different cultures and beliefs to reflect the importance of your family and background on your special day.
'It was so important to us to incorporate our mixed cultures and heritage and still make it feel inclusive for everyone.  We know it wasn't an easy task but it turned out to be everything we hoped for and so much more.'
Each of my scripts is individually written for the couple. I will work jointly with you through the planning, preparation and delivery of your ceremony.
I have particular experience in developing ceremonies which blend elements of Jewish wedding traditions with those of other cultures.
I am delighted to marry straight and gay couples across Hertfordshire and North/Central London.  I am also available for weddings abroad. If you would like to discuss your wedding needs informally, without obligation, either by phone, by e-mail or over coffee, please do not hesitate to contact me.  I look forward to meeting you!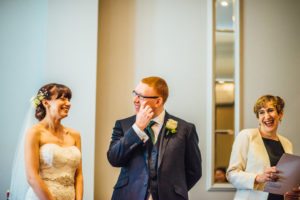 Your humour Your love Your story 

For more information please also see:
www.facebook.com/HarrietHumanistWeddings
Harriet.obrien@yahoo.co.uk