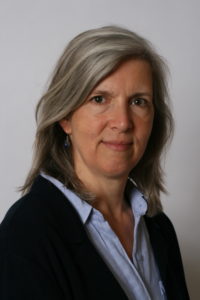 Hi, my name is Hester and I live in Lewisham with my family (two grown up children and husband). My background is in journalism, and communications work in the public and charity sectors, and now I work as a freelance.
I think that everyone should be able to have great ceremonies. For those of us who are not religious, it can be hard to find the help we need – help to organise weddings and funerals, a community in which to raise small children and look after elderly relatives, support when we are feeling low, and guidance on how to live. In our history, those things became tied up with going to church.
What I discovered is that humanism can offer all those things. Humanists believe in the power of human love and friendship. They believe that individual liberty and social responsibility are both important. Humanism – the idea that we must and can rely on ourselves and our environment for meaning and survival without recourse to a supernatural power – is as old as philosophy. Expressed by the ancient Greeks and the thinkers of the Arabic Golden Age, Renaissance and Enlightenment, often informing and being informed by religious thought, it offers a comprehensive, rich and evolving tradition which can support and guide each one of us.
And the great thing is – anyone can be a humanist! Doesn't matter where you were born, what ethnicity or gender or sexual orientation, what class or caste. In fact I believe many people are humanists without knowing it, if they think we should make the most of the one life we have and help others to make the most of their lives, if they believe in kindness and looking after the planet for future generations.
And personally I think that what unites people is more important than what divides them. The struggle isn't against religion, it is against discrimination, prejudice, oppression, extremism, fundamentalism, privilege and exploitation. It is for human rights, tackling poverty and climate change, increasing educational and employment opportunities, supporting communities and helping each one of us to blossom into happy, active people. Encouraging freedom of expression and debate and knowledge and scientific evidence and art and wonder at the natural world.
Anyway, you get the drift.

Humanists UK is the main organisation in England to articulate these ideas, help people get together in local groups, and to train celebrants. Their home page will take you to all their campaigns, events, publications and groups.
Coming together to mark important moments in our lives – birth, marriage and death – is how we express what matters to us. A humanist ceremony is inclusive and welcoming to everyone whatever their belief. My job as celebrant is to help you create an occasion which is special and meaningful to you.
*   *   *