I know there is plenty of information you need before making the decision to go ahead with your ceremony so, here are answers to some of the most frequently asked questions…
How much do you charge?
My current charge for a wedding/partnership ceremony is £650. I ask for a non-refundable booking fee of £200 on appointment, with the balance being payable 30 days before the ceremony or on completion of the ceremony script (whichever happens first).
My fee includes travel within an hour's drive of my home.
You will also receive:
An initial meeting where we can get to know each other and start planning.
Advice on the structure, choreography and content of your ceremony (including advice on readings, music, vows and any symbolic acts).
Drafting, and eventually finalising, your ceremony script.
A rehearsal at your chosen venue.
Delivering the ceremony on the day.
A presentation copy of your script.
I would be delighted to discuss working further afield, including overseas, for expenses at cost. If I am staying away from home for longer than a day, there will be an additional fee and I can provide an estimate for you before you agree to take me on.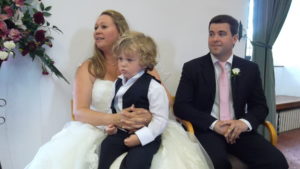 What is a 'humanist'?
Humanists have no belief in any gods, deities or the supernatural. They believe this is the one life they have and they want to lead it ethically, without reference to religious scripture or worrying about stuff like heaven and hell, punishment or reward.  Humanists rely instead on scientific evidence and appreciation of the world around them, along with respect for the achievements  of all humans.
Humanists value diversity. They pay high regard to equality and the relationships they have with other people – in part by marking key life events such as birth, marriage, and death through ceremony, ritual and celebration.
Do we have to be humanists to have a humanist ceremony?
Not at all! As long as you want a ceremony that offers you a non-religious (secular), personal, and meaningful way to celebrate your marriage, then I can provide this for you, whether you define yourself as 'humanist' or not.
Interestingly, many people discover they are humanist in outlook without having realised it. A recent survey shows that about one in five people in the UK hold humanist beliefs. Why not try the Humanist UK quiz and find out if you are actually a humanist without even knowing it? Here's the link: WWW.humanism.org.uk/humanism/how-humanist-are-you/
Will you marry same sex/trans couples?

Definitely – nobody should feel they have to ask! When any two people love each other and wish to make a public commitment to each other, I'm more than happy to be involved.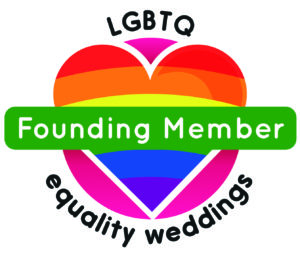 Humanists are committed to social equality. In fact Humanists UK has been instrumental in campaigning for the rights of people to get married regardless of gender identification or sexuality and I am a proud listed supplier and member of LGBTQ+ Equality Weddings,  supporting their #youdontneedtoaskhere campaign.
Is it true that humanist weddings aren't 'legal'?
Humanist marriages are legally recognised in Scotland, Northern Ireland, and Jersey, but not the rest of the UK. Legal recognition has had a transformative effect on Scottish and Irish society. In Scotland, humanist marriages gained legal recognition in 2005, and have risen in number from 85 in the first year to almost 7,000 in 2017 – some 20% of the total. This means that Humanist Society Scotland now provides more marriage ceremonies than any other religion or belief group. It will, hopefully, be only a matter of time before the marriage laws in England and Wales catch up!
This means that if you have your humanist wedding/partnership ceremony in England and Wales and you want it to be legally approved, you will need to register your marriage with the local registry office. Many couples do the paperwork/legal formalities at another time (usually in the days before) their humanist one although, they consider their humanist wedding to be their 'real' wedding, when all their friends and family gather to support them as they promise to spend the rest of their lives together.
What does a typical humanist ceremony look like?
There is no 'typical' ceremony: you can do pretty much whatever you want, wherever you want!
Humanist weddings are all about a couple celebrating their love for each other and making a commitment to one another in the company of those people who are most important to them.  This is done with personally-chosen words, readings, symbolic rituals and music in a place of the couple's choosing.
Your ceremony might be small and intimate or, it could be part of a grand event with numerous guests. It can be as formal or informal as you wish. It is about you as a couple so, the most important thing is that it reflects who you truly are and what you both hold to be most important.
How long does a humanist ceremony last?
The length of the ceremony will depend on the amount of content you choose to include. The more readings, poetry, music and other elements you include will increase the duration although, it typically lasts about 25-40 minutes. (Longer than 40 minutes and people can get twitchy).
Who can be involved in our wedding?
Anyone you like – friends, family members, children, pets. It's your day so you choose whoever and whatever you want.
One of our grandparents is deceased and we would like to remember him/her in our ceremony. Can we?
Yes, of course you can. It's quite usual to acknowledge that there are loved ones who are no longer with us and to have a moment in the ceremony to remember them with love. Some couples light a remembrance candle or might wish to have a poem read, or a favourite song or piece of music played.
Can we get married on a beach?
Because humanist weddings are not yet legally recognised in England and Wales, they do not have to take place at licensed premises. This means you can hold your ceremony pretty much anywhere. You can definitely get married on a beach or, you may like to use a place special to you, like where you first met. Gardens, meadows and woodlands are popular. Or, you might prefer a favourite hotel or restaurant, an historic site like a castle or, perhaps, your own or a friend's home. As long as it is safe and you have permission (if needed) then we can hold the ceremony pretty much anywhere.
We know humanist weddings are not religious so, can we have prayers and/or hymns?
Humanists have no belief in any gods, deities or the supernatural so, religion does not usually play any part in a humanist ceremony. But, we are all different so a period of silent reflection, where each guest can consider their wishes for the bride and groom and where those who do have religious beliefs can say a silent prayer, may be appropriate. Many people enjoy religious music and there may be hymns or readings with religious content that are important to you or your family. I am happy to discuss how we might include these into your secular ceremony.
Can we have special symbolic actions like exchanging rings, hand fasting or sand blending?
Yes indeed; all of these things and many other traditional rituals can be incorporated into your ceremony. It is all about what is special to you and what you both want.
Can we write our own vows?
Absolutely! I love it when people write their own promises to each other and I can help you with ideas. You can write them together and share them before the ceremony or, keep them as a surprise for the big day. It is completely up to you. Equally, I can supply you with samples of vows/promises if you would prefer.
Will you help us with ideas for music and readings?
I will discuss ideas with you and advise you on the choreography, content and timing of your ceremony.  I have access to a wide selection of poetry, readings and music ideas that I will be delighted to share with you as part of our planning together.
On what days of the week can I get married?
You can get married on any day of the week and the time is up to you. Some people love the idea of a summer afternoon wedding; others might prefer a candlelit winter evening. Humanist celebrants are not restricted to time of day, or day of the week or month.
What if something goes wrong and you can't make it on the day?
It hasn't happened yet although, as a Humanists UK accredited wedding celebrant, I come with full public liability and professional indemnity insurance. I am also part of a network of wedding celebrants so, in the unlikely event that anything should happen to me to stop me delivering your ceremony, a highly-trained and experienced colleague will step in and deliver your script at no extra cost to you.
I have been married before and I have children, does that matter?
It makes no difference to me how many times someone has been married or what the circumstances were. I only care about your ceremony and I will be committed to delivering something memorable.
We got / are getting married abroad and want another ceremony for friends and family here. Can you do this?
Yes, I'd be happy to create such an occasion for you. We can make your humanist ceremony a wedding in itself or think of it as a celebration of your marriage – whatever suits you best. That said, in practice most couples in such circumstances choose to make promises to each other and (re)exchange rings.
Call me on 07792 357212 – I would love to hear from you! (Evenings and weekends are fine). Or, send me an email:  johnny.coleman@humanistceremonies.org.uk