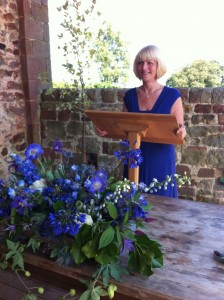 Wouldn't it be great to start your married life with a ceremony that really means something? To tell your friends and family what your relationship means to you, and why you are choosing to get married?
These days, the majority of people aren't religious and so are looking for a secular wedding that is more flexible and personal than a civil or register office ceremony.
A humanist, non-religious wedding ceremony gives you the opportunity to marry where you want, when you want and how you want.
There's no set script: it's too personal an occasion for that. Instead, each wedding is tailored to meet the your requirements. You can set the tone that's right for you and choose your own words and music. You may also be looking to renew your wedding vows for a variety of different reasons.  I am happy to talk through your options with you for such a ceremony.
I write and deliver totally bespoke, romantic, heartfelt and uplifting ceremonies that feature storytelling, thoughts on love and marriage, music, personal and meaningful vows and a choice of symbolic acts – without the constraints of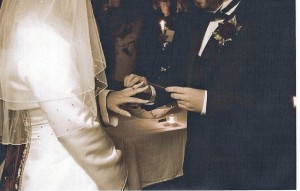 religion or civil ceremonies. My style is smiley, relaxed and personal with a memorable script that evokes sincerity and significance, celebration, love, a sprinkling of fun and usually even some tears of loveliness.
Humanist weddings are perfect for couples who would like:
A meaningful ceremony that isn't religious
To marry outdoors or at a location that isn't licensed for civil weddings
The flexibility to create a personal ceremony that is unique to them
To get to know the person who will be conducting their wedding
To celebrate their marriage with family and friends but without legally registering it – perhaps they have already undertaken the formalities overseas, for example.
Humanist weddings are not yet recognised in law in England and Wales, and so couples often go to the register office to take care of the legal formalities in the days before or after their humanist wedding.
"It was a beautiful ceremony that exceeded our expectations. It was sincere and dignified, touching and full of humour. So many people said it was the best wedding they've ever been to!"
I have been conducting weddings for nearly 25 years and am delighted to guide you through the process of creating a wedding that's perfect for you. I will:
Meet you to get to know you and what you want from the occasion
Share their ideas and draw on my experience
Write a unique ceremony based on your preferences
Edit this in response to your feedback
Conduct the ceremony on the day itself
This is a suggested structure for wedding ceremony, but this too can be changed to meet your individual needs: –
Entry– usually to a piece of music chosen by the couple
Introductory remarks– including me welcoming those present, describing the ceremony, describing the important role of those present and so on.
Your journey – the most important (and exciting) part of the ceremony where those present will hear about the history of your relationship followed by your commitments, aspirations and intentions to each other for many years to come.
Vows, Ring Exchange etc. Bespoke vows are ordinarily exchanged along with wedding rings.  There are other symbolic features to consider, such as hand fasting, candle lighting or sand-blending.
Closing words – includes the expression of good wishes and exit to chosen music.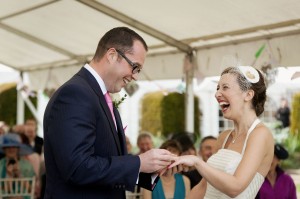 You may also wish to involve close family members and friends in your ceremony by, for example, reciting meaningful poetry or readings, or performing music. There are a number of recognised rituals which can also form part of the ceremony. I have plenty of suggestions and examples for you to consider.
Ceremonies last somewhere between 20 and 45 mins, but ordinarily for around half an hour – once again this depends on your requirements.