'The Best. Don't look anywhere else. Just stop looking!' Dan & Rian. South Farm. June 2018.
If you've found yourself here, then it's likely you're planning a milestone moment in your life. So…let me start with a big Congratulations!
I am a Humanist Wedding Celebrant based in beautiful Cambridge, where I live with my husband, our little boy, and two (badly behaved) dogs.
I decided to become a Celebrant for Humanists UK after attending the Humanist wedding of two university friends. The ceremony was by far and away the best I'd been to – and by that point, I'd been to A LOT of weddings.
The ceremony was completely personalised to the couple in every way. It reflected them and their relationship as well as their unique thoughts on love, marriage, and commitment. For me, it was like a lightbulb moment after my own (fairly anti-climactic) register office civil ceremony, which had taken place a couple of years before. I immediately wanted to show others how incredibly special  – and fun (!) – non-religious, Humanist ceremonies can be.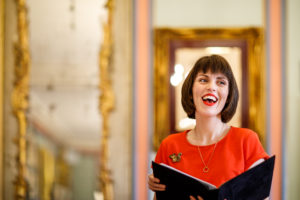 Why book a Humanist Wedding Celebrant?
Since becoming a Celebrant myself, I can tell you that, in choosing a Humanist Celebrant, you are not simply hiring someone to conduct a 'Standard Issue' ceremony. A Humanist Celebrant will help you and your partner to design and build a tailor-made wedding that is totally unique to you… and tells your magical story.
Your Humanist wedding ceremony can be as traditional, meaningful, fun or wacky as you want it to be. You can involve friends, family… pets! You can go big and bold, or keep it intimate and low key.
Unlike other services, you have complete ownership over your Humanist wedding ceremony to include the words, readings, songs and symbolic gestures that mean something to you.
Some couples know exactly what shape their day will take, others need a bit more of a steer. That's what I'm here for: to get the best out of you and your partner so that your big day completely reflects your relationship, and your hopes for your future together. It's a really fun and creative process. A collaboration that results in a ceremony which uniquely marks your Big Day, brings true significance to the occasion… and helps kick your celebrations off in style! Woohoo!

I love being part of the excitement and joy that comes with a wedding. It's always a privilege being asked to create and lead a couple's ceremony, and help them to mark such a pivotal moment in their lives together.
I work really hard with couples to make sure that each ceremony is right for them. Knowing that I have helped create a day that is going to be treasured by that couple and their families for years to come is very rewarding…and a little bit addictive!
If you are thinking about having a Humanist wedding ceremony, please visit my website for more info about working with me.
M: 07595508979
E: katie@katiethecelebrant.com
Follow me on Facebook.
Find me on Instagram.