Each ceremony is unique, appropriate, and personal
As a funeral celebrant with Humanists UK, my role is to help you through one of the most stressful events in anyone's life – the death of a close friend or family member
My name is Richard Watson, and I conduct Humanist and non-religious funeral ceremonies in West Cumbria, Carlisle and Penrith.
Prior to taking on this role I was a probation officer in Cumbria for nearly 30 years. I also worked as a freelance social worker, assessing people who applied to be foster carers. I am sensitive, warm, friendly, reliable and professional.
As Humanists, we believe that we have just this one life, and that we create meaning and purpose for ourselves though our families, our relationships, our work and our interests – the things we are passionate about. We believe that morality is based upon empathy, and good upon what is best for us as human beings and for all life on the planet. We strive for a society in which reason and kindness prevail.
A simple, sincere Humanist ceremony is an excellent way to celebrate a life that has ended. Each ceremony I create is unique and designed to be true to the person you have lost.
Ceremonies usually include a variety of readings and other contributions. These may be delivered by me, but often a family member or friend is keen to say a few words too. There are usually two or three pieces of music, and occasionally someone sings or plays a musical instrument.
At the heart of the ceremony is a tribute to the person who has died, giving an outline of their life and highlighting their personality and achievements. Before this there may be some thoughtful words on life and death, and afterwards a pause for reflection.  The most formal part of the ceremony is the 'committal' or burial when family and friends say their final farewells.
Although a funeral is a sad occasion, a little gentle humour – perhaps an anecdote or two about the person you have lost – can help to lighten the mood. It can also be comforting to end with a few uplifting words, perhaps in the form of a carefully-chosen poem or reading.
My aim is to put together the ideal ceremony for you. I will visit you to go through all the options, taking detailed notes. I will listen carefully to your thoughts, ideas and wishes. I will then draft a ceremony and send you a copy to check. You will be invited to suggest changes and improvements.
I will liaise with the funeral director and the crematorium or cemetery staff to ensure that everything goes smoothly on the day.
My hope is that a Humanist funeral ceremony will help you to grieve for the person who has died. It should be a memorable occasion – something you can look back upon in years to come. You will receive a presentation copy of the ceremony detailing everything that was said, including any poems or readings. I will also email it to you so you can copy and share it as you choose.
If you would like an informal discussion with no obligation, please contact me. I'd be happy to answer any queries you may have and help you decide whether I am the right person to lead your loved one's funeral ceremony.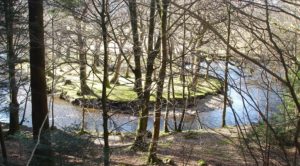 "And when the stream that overflows has passed,
A consciousness remains upon the silent memory;
Images and precious thoughts that shall not be
And cannot be destroyed."    (W. Wordsworth)