Keep it Tidy
by Quentin Brodie Cooper, Zilch UK Coordinator
As an officiant, I'm sure you'd agree that it is an enormous privilege to be so closely involved with a ceremony that marks a significant life-stage event; be it a naming, a wedding, an affirmation of commitment, a remembrance or a funeral.
The trend over recent years has been for people to make such occasions ever more elaborate and, as part of that effort, to include in the proceedings the release of helium-filled balloons or hot-air lanterns.  These are, by their very nature, visually appealing and have an entrancing effect; they rise slowly and silently into the air becoming ever smaller until they disappear altogether.  Everyone lifts their heads to watch them and the act is both uplifting and symbolic.
Unfortunately though, few think of the consequences of their action.
Eventually and inevitably everything that's let go at these events comes back down to earth.  Sometimes the debris ends up in nearby in fields or rivers, elsewhere it gets entangled in trees and very often it lands miles away out at sea.  Whatever its eventual destination, this litter poses a threat to creatures both domestic and wild.  Cattle, sheep, whales, turtles and seabirds have been known to starve after ingesting such materials and the associated ties or strings can entangle and snare birds and small creatures causing them to die slow and painful deaths.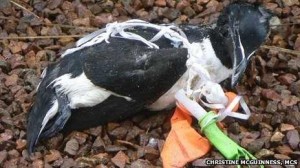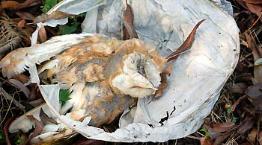 And, disappointingly, even supposedly biodegradable balloons do all these things.  They can take many months to degrade on land and once in water and out of reach of ultraviolet light far longer.  Furthermore the helium used in balloons is a scarce and finite resource that might be far better used in medical and scientific equipment. Paper lanterns can cause devastating conflagrations.
Each incident on its own may seem insignificant but, collectively these releases are having a significant impact.
Beach surveys show a steady increase in the quantity of balloon remnants on our shores and a recent survey of debris floating Gulf of Maine found that 22% of it was balloon-related.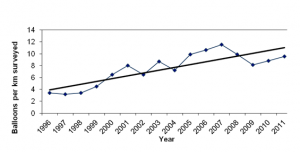 We at Zilch UK, the new national network of individuals working to eliminate littering, together with a number of other notable organisations such as the RSPCA, RSPB and the Marine Conservation Society are working hard to make the practice of releasing airborne litter socially unacceptable.
There are plenty of alternatives such as throwing petals, confetti or paper pompoms into the air, having a collective bubble blow with the suggestion that people relax and let go as they exhale, lighting a roman candle that shoots sparkles skywards and then dies away or waving ribbons, flags or banners in the air.
And finally and additionally, we're sure that every person asking for a non-religious funeral would agree with our motto that you should "leave only your shadow behind".
So we would like to ask you, wherever and whenever possible, to use your privileged position to counsel against aerial releases and to do so safe in the knowledge that you'll be making the world a better place for this and subsequent generations.