Herts, Beds and Bucks Humanist Celebrants regret to announce the death of Tony Coles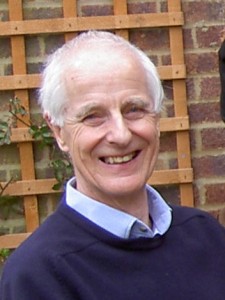 by Pam Burn and Margaret Metcalf
Our dear friend and colleague, Tony Coles, sadly died on 21 November 2013 from a brain tumour diagnosed in the early summer.
Born into an RAF family in 1937, Tony was to remain involved with this arm of the services for a substantial part of his life.   The outbreak of the Second World War saw Tony, his elder brother and their mother alone in the UK for five years prior to his father's return from India.  The whole family spent two "wonderful'' years in Iraq where the boys (now four of them) had a fun-filled and adventurous life, riding horses, swimming and exploring.  On their return to the UK in the 1950s, the two older boys joined the Air Training Corps to prepare to follow in their father's footsteps.
After leaving school and having first tried other engineering units in the RAF, Tony finally settled as an Air Electronics Officer following flight training.  It was during this training that he met his wife, Margaret, who was then at teacher training college in Ripon and they married in 1964.  Tony's first flying tours were at RAF Scampton where he flew in a Vulcan V Bomber squadron and also served in 617 squadron, which was famously known as the Dambusters.
Their two sons, Robert and Stephen, were born in the years between 1966 – 68 and, at eleven years of age, the difficult decision was made to send them to boarding school when Tony was given a posting to the British Embassy in Jakarta.  This lasted for three years and was followed by a posting to New Delhi for another three years.  They led a colourful and exciting life with their boys joining them for holidays three times a year, as was the norm with expats at that time.
Wing Commander Tony Coles retired from the RAF after 35 years' service in 1986 and began a new career with the Foreign and Commonwealth Office, which he was to enjoy for a further 10 years until his final retirement at 60 years of age.
Whilst Tony had a distinguished professional career, he also enjoyed what Denis Healey called "a rich and active hinterland".  His first foray on retirement was into the world of the CAB where he worked for five years.  This was followed by training as a humanist celebrant – an outward commitment to his lifelong atheism.  Tony brought to both these retirement roles great empathy and emotional intelligence.  He was able to combine this work with a really joyous and fruitful musical 'career', playing double bass at the Abbotts Langley Orchestra the Watford Philharmonic and, eventually, the St Albans Symphony Orchestra.  He had been introduced to music at early age by his parents as his mother on piano and his father on clarinet, often played duets together.  At the age of 50, Tony began to play seriously, and though he much appreciated jazz, his passion was always the classical genre.
Tony's other interests were very wide ranging and included studying for, and gaining, a BA in Sociology from the OU in 1980, bell ringing, political debates, the writings of Thomas Hardy and working for Amnesty International.  Looking at all the many activities and interests of his life, one has to wonder how on earth he managed to fit it all in?  He was also a devoted husband, father and grandfather and regarded by them all as a wise old soul.
Tony had the gift of being able to talk to anyone – an absolute essential for celebrants.  He was very good in a crisis, but as he sometimes said, the crises were often of his own making – a mark of his self-deprecating sense of humour!  He was a witty, gentle man with a mischievous way about him; he could be provocative and sometimes even a touch cynical, but he was always, always kind and concerned about his clients and his colleagues.  Tony will be very much missed by us all here in Hertfordshire.