Into the Woods
Don Sharpe, Regional Organiser – East/North East Midlands
On Friday 27th September celebrants and their guests visited the National Memorial Arboretum at Alrewas Staffordshire.  They enjoyed a private tour with a very able guide (ex-policeman) who offered a whole list of facts and figures, stories and general information.
During the 90minutes tour it was only possible to visit the main 'core' of the memorial, there being some 150 acres of land in which army, navy and air force memorials feature alongside memorials for individual regiments, civilian forces such as ARP or Civil Defence/Home guard memorials, as well as memorials to forces from the commonwealth countries who fought in world wars.
Other memorials from faiths or non-faiths were also pointed out; it was impossible to visit everything and so I am sure celebrants will return in their own time privately to see more of the many memorials, some quite stunning and beautiful.
At the start of the tour the celebrants looked through an open door into the 'quiet area' building where at 11am everyday an act of homage is offered.  This is non-religious and included are the usual words from Binyon and the sounding of the Last Post.  We witnessed, through the open door a short, simple Act of Homage, without frills one might say.  Photographed at the foot of the steps leading to the circular wall of remembrance on which names are inscribed are: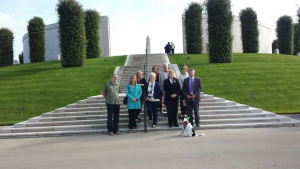 Back Row: Celebrant Tina Pritchard, Margaret, wife of Celebrant Arthur Summerfield stood next to Arthur who stands next to Celebrant Cath Sutherland.  Front Row: Liam (Tina's husband) Celebrant Janice Castings, Celebrant Ingrid Tapp, Christine, wife of and standing next to Retired Celebrant Don Sharpe who is now the Regional Organiser.  Don is standing holding the lead of his assistance dog Mitchell.
The weather was very kind and everyone agreed how worthwhile the visit was.  Don cannot emphasise enough just how much the tour guides words, stories and information was appreciated.  The opportunity to chat over a meal and coffee later on in the excellent facilities provided in the visitor centre was not missed.  It is certain that everyone there on the day would recommend the NMA to all celebrants and indeed all attending on that Friday morning intend to visit again.