Self Congratulation Corner
by Janice Thornton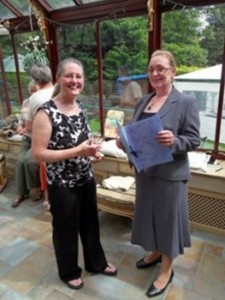 Although a Christian, the new president Anne Raine was very concerned to demonstrate the secular nature of Rotary, so asked me to do the welcome ceremony instead of her taking everyone to her church as has happened in the past, so she asked me to write a ceremony for her.
I decided to focus on what we have in common – our humanity and how this informs the work of the Rotary.  As Bradford West is a very diverse community, I wanted to use the words of different faiths to demonstrate that no one belief system has a monopoly on humanity.  Anne specifically wanted a strong Yorkshire influence, so these are some of the quotes I used.
I started by quoting a Yorkshire lad, Alan Bennett, who said "Sometimes there is no next time, no time-outs, no second chances.  Sometimes it's now or never." .
Martin Luther King said 'An individual has not started living until he can rise above the narrow confines of his individualistic concerns to the broader concerns of all humanity.'
And  Mahatma Gandhi , said 'You must not lose faith in humanity. Humanity is an ocean; if a few drops of the ocean are dirty, the ocean itself does not become dirty.'
I wasn't sure if they were more disconcerted by having a 'humanist' in their midst or me quoting non-white religious people at them!
Some interesting conversations were had afterwards, especially with the thanks giving….
"I'd now like to give thanks for the gift we all have that enables us to help improve our community
Today we give thanks for our many blessings
We give thanks to the Rotary for bringing us together and providing the opportunity to be of service to our community…
We give thanks for our family, friends and colleagues who support our work to improve the lives of others…
We give thanks for the laughter and friendship that being a Rotarian brings into our lives…
Together: We give thanks for the chance to make a difference."