NEC Baby Show 2012
Bob Jelley gets to grips with the NEC
What could I say to parents, existing or expecting?  I am new to celebrancy.  I have done the Naming course but am only planning my first ceremonies.  More experienced celebrants stride around me seeming to me, like gurus on a mountainside, all-knowing, serene.  Hey, ho, let's give it a go.
Into the hangar-like NEC and seek my credentials.  Seek the stall, well set up, between 'buggy' and  'swimming babies' stalls.  The stall has soft seats, where I can rest and to which foot-weary Baby Show visitors will be tempted.  We have sweets in a potty!  There are BHA tote bags, pens and leaflets galore to allure.
I rehearse patter with the Gower Street elder.  A bit of role play, I'm the mum-to-be, he's answering questions; I need to know the right line to take.  The NEC klaxon goes and a stream of visitors appears.  There are young mums with their mums; there are young mums with young dads.
Some seek us out "My mate had a naming and it was really good, now we want one for Josiah".
Some look and we pounce "Can I interest you in the FREE BHA Grand Draw?  £200 worth of baby clobber prizes and just a few questions to answer."  As the day progresses, people are increasingly keen to sit down on those beckoning chairs and fill in the slip.  'Yes, I will consider a humanist naming ceremony, here are my details'.
Perhaps one or two are fearful of our godless stand, 'It's too late, little Samuel  is christened'.  They are outnumbered by those who say 'We don't believe in god so it would be hypocritical to have a religious ceremony.'  We take in about 100 slips, from interested people during that one Saturday.
At the end of the day I feel righteous, having campaigned for fellow celebrants in several parts of the UK: Bristol and the south west, London, Newcastle on Tyne, Stoke on Trent and the east and west midlands.  At this moment I have just one firm booking of my own from the day's efforts BUT as the 9 months pass I am confident that there will be more.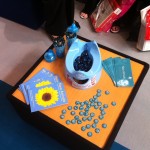 All over the UK celebrants will benefit from my efforts and probably want to buy me a drink when they see me.
 Thanks also go to volunteers  Jacqui Dickenson, Wendy Weavin, Geraldine Jones and Liz Duncan.  We are very keen to find volunteers for the baby shows at the Event City in Manchester from 31th August – 2nd September and London's Earl's Court from 26th – 28th October.  Please email Vanessa at vanessa@humanism.org.uk if you are able to help.