Welcome Back!
It was lovely to see Ros Curtis back in action as a volunteer on the BHA's stand at a local funeral exhibition at Chilterns Burial Park, where they know Ros well, on a very rainy Saturday in July.  It has been a difficult few months for Ros, but she's very pleased to be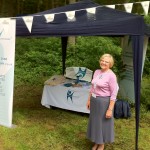 back in the swing of ceremonies work, and would like to thank all who sent her kind messages of support.
Best wishes also go out to Simon Binns, Marion Kemp, Lisbeth Johns, Howard Palmer, Brian Cainen, Gary Vaudin, Pam Burn and Ian Breach, who are unwell or recovering from illness or recent hospital treatment.  I'm sure we will all wish them the very best of health.