Welcome to Transylvania
A second wave of major social change is taking place in Romania, 20-something years after the fall of Ceausescu's communist regime. Following a no-confidence vote, a new prime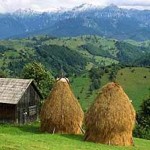 minister has been elected and a new political grouping has formed to contest parliamentary elections later this year.
One of the prime movers in all this is Remus Cernea, president of the Association of Romanian Humanists, who will be hosting the next IHEU conference in May 2013.
That month should also see the first ever humanist ceremony in Romania. I met Remus during a short break just after Easter. The trip came about primarily to satisfy my curiosity about the country, the people, the food and the music, and it was triggered by a conversation with Katie Aston, whose PhD on humanist ceremonies will incorporate interview material from both consumers and producers, ie us.
After we had finished the formal part of the interview, Katie mentioned a recent visit to a friend at Goldsmith's who is pursuing a post-graduate course in Romania. She had been given Remus' email address but had not had time to meet him. That was the excuse I needed to make a short visit to the country.
Bucharest on a cold Easter Monday is not a welcoming place, and I was glad to get out for three days to Brasov for a look round Transylvania.  By the time I got back to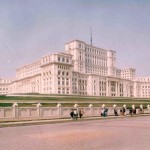 Bucharest and the planned meeting with Remus, the weather had improved.  He turned out to be big, bearded, articulate, charismatic, energetic and ambitious. The party he founded – the Greens Movement/Democrats Agrarians – is already signed up as an ally of the coalition that will form the new government. So by next May, Remus could be an MP, which will give humanism its first voice in Government in the former communist world.
And not before time. When Ceausescu fell, the churches swarmed in to fill the vacuum. Successive governments fanned the people's dormant faith into life and secured popular support by making enormous grants for the construction of new orthodox churches all over the country.
Hosting the IHEU conference is part of the strategy to secure a secular voice in the public square, and it is hoped that a humanist wedding ceremony will help to create media, including TV, coverage for the event.
Remus has now embarked on the search for a suitable couple, possibly through some kind of competition.
Things are happening elsewhere in the old Christian world. The Malta Humanist Association has asked for a training programme for potential celebrants, which David Pack is in the process of preparing. As in Romania, the number of declared non-believers is tiny – around two per cent – but church attendances are in decline. The MHA reports that only about half of Maltese are regular church-goers.