Heatherley Wood Dedication
It's always good to learn of a new Woodland Burial Site opening on your patch and this one looked especially promising with its 'high quality sustainable building' – such a nice change from having to don your wellies and deliver your carefully chosen words to the drumming of rain on umbrellas.
It's even better to be invited to contribute to the service of dedication – as happened to my celebrant colleague Ailsa Davies. It turned out that they just wanted her to read a poem as a nod to including those of other beliefs in a ceremony led by the local Rev and accompanied by his church choir. But she accepted with good grace and got me an invitation too.
The building is certainly a beautiful structure (see link to website below): light and airy with windows on two sides giving views of the meadows and woodland and comfy seats which can be arranged to suit There is an organ but no Wesley music – something to do with bad internet connection I was told. They also offer the use of the building for a reception afterwards – another huge advantage.
https://www.greenacreswoodlandburials.co.uk/park/heatherley-wood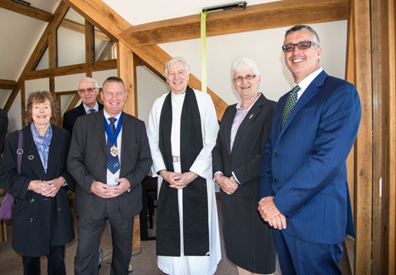 The ceremony itself was a bit tame and preparations for the elections meant that the local councillors couldn't be invited (we've been promised invitations to the re-run of the dedication in their honour at a later date). There was a press photographer and the event was well attended by various interested parties: funeral directors, families of people who'd been buried there, other celebrants etc. The Rev kept his piece to a minimum and mainly talked about what an asset the site is to the local community and then introduced Ailsa (pronouncing her name correctly in spite of its having been spelt as Alisa in the programme – a black mark for us celebrants who double proof-read every order of service sent to us by an FD!) The poem chosen for Ailsa to read was The Comfort and Sweetness of Peace by Helen Steiner Rice which gave her the chance to add a few of her own words about the natural cycle of life which surrounds us – the glass doors behind her were open and the green woodpecker could be heard calling from the woods behind which were once part of the National Trust's Ludshott Common, a lowland heathland of international designation.
Ailsa and I have explored nearby Farnham Heath together where we were privileged to experience churring nightjars, melodious woodlarks and roding woodcocks. So after the cutting of the tape (undertaken by the Rev) and the consumption of coffee and cake (it had to be done!) we took advantage of a guided tour of the burial ground where families can choose from a range of plots – some in the flower-rich meadows and others in little dells in the woodland. Graves can be marked by wooden plaques or carvings. The site is to be managed to preserve the wildlife native to this type of heath and families are encouraged to sponsor a tree or donate a bird- or bat-box.
At the weekend they offer the building for use by local charity events. I did suggest it would be great for namings and weddings too and could be renamed a Woodland Ceremony Ground where families could mark all the major milestones in their lives. I think this was a step too far for management but there's no harm in dropping a few seeds in the hope that one day one will germinate! In the meantime, we look forward to being asked to create a burial ceremony in such environmentally rich surroundings and deliver it to the accompaniment of laughing woodpeckers!