Chapel Blessings
By Billy Jenkins
I was most flattered when, three years ago, I was approached by a local 'family run' funeral parlour ('family run' usually means these days it's part of a 'accountable to the shareholders' PLC…) to give a humanist blessing for their refurbished chapel.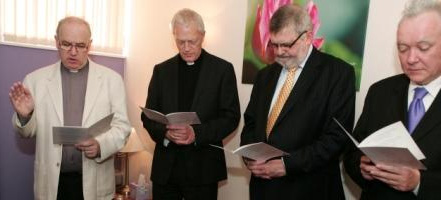 I rang my 'guru', Denis Cobell – former President of the NSS and an Honorary Life Member of the BHA and one of those at the forefront in helping to develop humanist ceremonies over the last few decades into the BHA network we have today. Indeed, he has done the occasional chapel humanist blessing for over fifteen years.
His main advice, as it is in effect, an ecumenical occasion, was 'don't be rude to the clergy'.
So I turned up sprucely turned out along with my SE London colleague Trevor Moore.
A casual and scruffily dressed Anglican vicar  sauntered in.
I spotted him on two counts. One, he had what looked like some white tape strapped round his throat and secondly, there was hardly anyone else there, so a new face was readily welcomed by the three staff, two lonely widowers, a stoical widow, Trevor and myself.
We shuffled into the chapel. Rockin' vicar said a few words from one of those floppy thick books that prisoners find most useful for tearing the thin paper pages out for cigarette papers…..
I brought the (small) assembled throng together with one of my trusty, Come All Ye-hah!' call and responses, prefaced by some 'humanism-lite' banter.
And the Roman Catholic priest? Well, despite what it says on the plaque, he couldn't be 'R.C.- ed to turn up. Didn't even send his apologises. He missed a very nice buffet ….
Since then I have done four more blessing for local Co-op Funeralcare. I know some of my local colleagues have also done some – Trevor has been invited to three for other establishments. His usual input, prefaced by a short ad lib overview of humanism,  is a short reading, like Herbert's Read's 'Tree of Life'. In fact, at one blessing, a minister actually asked him for a copy (something that has happened with Denis too).
Another SE London BHA celebrant Lin Donnelly read that recently at a (truly) local family firm. She was touched that the C of E vicar prefaced his prayer by saying 'for those of you who feel able to, please join me in the Lord's Prayer' – thus being sensitive to Lin's (and no doubt other's) feelings and reciprocating the importance of fellowship and tolerance at such events.
And I also know other colleagues around the country have done chapel blessings. Janice Thornton in West Yorkshire has done three in the last year in the Bradford area for Co-op Funeralcare and she says that:
'The best part of it has been meeting so many different faith representatives (and being such a diverse area,  apart from CoE and RC, I've done them together with those from the Sikh, Hindu, Spiritualist and Evangelical communities) and these folk seeing how well the funeral arrangers know and get on with me and whoever else I take along. On all three occasions the Lord Mayor has come along to unveil the plaque and in each speech he has focussed on how pleased he is to see a humanist here to represent those who don't want a religious funeral!
Janice underlines Mr Cobell's initial advice by adding:
'I focus on shared humanity and the importance of love and support from those around us – a sort of 'can't argue with that approach'.
Since my own first low key experience, the four Co-op ones have been grand affairs – the Mayor offering platitudes, Men in Frocks droning, Catholic priests blessing un-air conditioned rooms with their halitosis (hey – why bother with dental hygiene when you've no one to kiss…), trumpet fanfares, dove releasing, horses, motor cycle sidecars and a jazz band, whose banjo player at the last blessing I did, thoughtfully brought to my attention that 'funeral' is an anagram of 'real fun'!
And, apart from its serious intent, that is what chapel blessing are. And it is encouraging to get the feeling that, especially in the Co-op's eyes, humanism is just as relevant as the two perceived main Anglo-Saxon faiths.
So, if invited to give chapel blessing or just to be present, do accept. It's a great network opportunity, a chance to meet folks in the trade face to face (especially arrangers, directors and conductors), hand out leaflets to interested parties and sometimes, bump into members of a family for whom you have conducted a funeral for.
Oh – and the free buffet is usually most agreeable!
And don't forget, if you do one, send any pictures to our marketing team – Isabel Russo and Hannah Hart. This parity twixt theology and philosophies always needs to be telegraphed to a wider public!