National Funeral Exhibition
By Hannah Hart
On 7-9th June a hardy group of celebrants threw themselves into to the weird and wonderful world of the National Funeral Exhibition (NFE) held in Coventry.
As with previous years, Humanist Ceremonies had a stand at the exhibition, the industry's biennial premier trade event.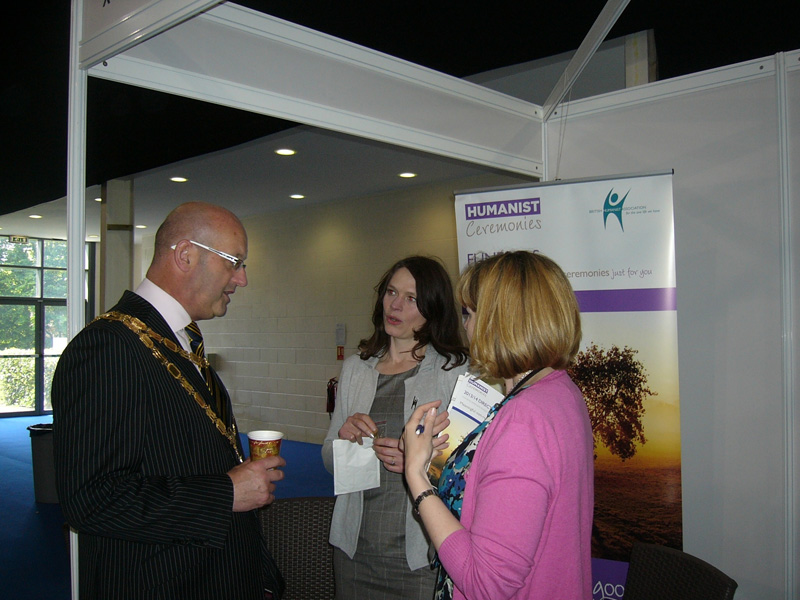 Over the three days we spoke to a whole variety of funeral directors, competitors, coffin makers, local authority workers, burial ground owners, similarly-minded organisations (e.g. Natural Death Centre) and representatives from professional associations (e.g. SAIF and NAFD).  We also got to experience other exhibitors offerings (especially those with chocolate) and attended a few seminars held on a variety of topics.
The event started with a countdown to the opening and an excited cheer around the exhibition hall (honestly) before the those queuing outside (honestly) were allowed in begin their rampage around Hall 1 and 2 at Stoneleigh Park.  Over at stand X11, initial enthusiasm was dramatically dampened by the discovery that many of the hot-off-the-press new directory were missing the eight middle pages of listings…
We dealt with this unexpected 'challenge' with the zeal of a winning team in this week's edition of The Apprentice… and then got on with the show like pros.  In fact, the directory turned out to be a big draw to the stand with FDs keen to take the new version away despite our assurances that a copy would be sent out with trade journals next month.
We were delighted at how many people we spoke to were aware of our new branding and took away handfuls of leaflets for clients.  Some FDs were profuse in their praise of their local celebrants too – we hope we've fed this back when particular names were mentioned.
Aside from promoting ourselves generally, we had two more specific aims of our attendance.  The first was to promote the online 'find a celebrant' facility and the second was to invite and listen to any negative perceptions about us as an organisation.
The first aim was easier to get stuck into.  We had some Humanist Ceremonies pens made with the search facility web address printed on and we used the BHA's brand new laptop to demonstrate how this feature worked.  People definitely needed showing this rather than just having it explained.
Listening to criticisms of us as an organisation (real or perceived) was more difficult. A common theme was the perception that we are dogmatic in our approach and will either 'preach' humanism and/or be too absolute in our stance on the inclusion of religious references.  We tackled the latter issue head on, explaining that whilst we won't lead an act of worship under any circumstances, we understand that some religious songs or readings have cultural importance to people and so under such circumstances, we'd be happy for a mourner to lead an appropriate hymn or perhaps a prayer.
Many thanks to those celebrants who gave up some of their weekend to immerse themselves in the death business at its broadest and oddest to represent us all, and also  braved the appalling pasties being sold in the canteen: Geraldine Jones, Edgar Harwood, Dennis Pugh, Sylvie Summer and Bob Jelley.