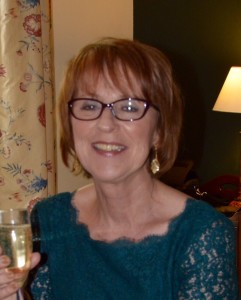 I live near Stamford in Lincolnshire with my husband of over 40 years. I have two grown up daughters and three beautiful little granddaughters. I am available to conduct weddings, partnerships and namings in Lincolnshire, Rutland, and surrounding counties.
Why I am a Celebrant
I decided to train as a celebrant after attending two wonderful humanist weddings, and my little granddaughter's lovely naming ceremony. They were so much more personal and meaningful than any church wedding or christening I had ever been to and I felt that creating and delivering bespoke ceremonies was something I would enjoy and do well.
I have always believed that every occasion in life should be celebrated to the full and have made sure that all birthdays, holidays, and family celebrations have been memorable and full of fun. Humanist weddings and namings give people with no religious belief the opportunity to celebrate the most important events in their life with their friends and family in a way that is joyful, memorable, meaningful and personal to them. As a celebrant I aim to bring joy to the celebrations of other people.
More about me
I am retired from a rewarding career working in human resources in the science sector. My professional life gave me plenty of experience of public speaking, and of working with people from a diverse range of backgrounds. Promoting the benefits of diversity was always a part of my role, and I enjoy making ceremonies special for all sorts of different couples and families.
Now that I am 'retired' I am able to enjoy more time doing the things I love most – spending time with my family and friends, looking after my granddaughters, walking in the countryside, Zumba, visiting new places and going to shows and concerts. I really love flowers and creating beautiful designs with them and I am a self confessed Strictly addict!
Why I am a Humanist
For me humanism is about living life in a way that recognises that this is our only life, and that we should appreciate the beauty of the world we live in, value the people we share our lives with and do everything we can to make the world a better place for everyone.
As a humanist I put my faith in what the evidence of scientific discovery tells me rather than the words written in any one of many ancient unverified texts. And I try to behave well towards other people and the environment just because I think that is the right thing to do, not because I think I will be rewarded or punished for it in another life.
I respect the rights of people to hold religious beliefs as long as in doing so they do not indoctrinate or harm other people.
---
Testimonials from clients
"From the first time we met Rosie to discuss the possibility of her conducting our ceremony, we were confident that she would do a fantastic job. She worked very hard with us on getting our script exactly how we wanted it, and was great to deal with throughout the whole process. We loved the ceremony on the day, and our guests were full of compliments for Rosie's work."

---

"We were very impressed with Rosie. From our very first meeting, through the creation of the script to the delivery on the day. Her professional and friendly approach made us feel in very safe hands for our big day, and many of our guests commented on how much they liked the ceremony which was so personal to us."

---

"The ceremony was absolutely amazing. From our first meeting with Rosie we knew it was going to be perfect for us. We are not religious and wanted the freedom of a ceremony in our family's garden so researched humanist ceremonies and it seemed a good fit for our beliefs. Everyone at our ceremony commented on how lovely it was and a lot of people said they wish they had known about humanist ceremonies so they could have had one too."