Hi, I'm Sheena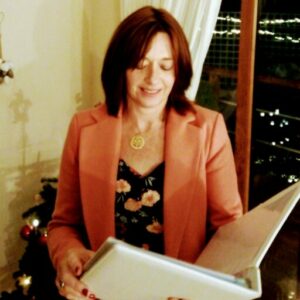 … and I love my work as a Humanist Celebrant conducting non-religious ceremonies, including Weddings, Funerals and Baby Namings throughout Northern Ireland. I am based in Dromore, Co Down but I am happy to travel.
At my own wedding back in 1998, my Dad made a speech and commented that, "Sheena was a very enthusiastic child!" We all laughed out loud, and I THINK he meant it as a compliment…!
In my role as a Celebrant, I get to be as enthusiastic as I want. I meet all sorts of people, in all different sorts of circumstances. Often we share tears of joy and laughter, and at other times, tears of great sadness and pain… But ALL of it makes up this 'One Life To Live' that each of us has.
Please click on the relevant coloured tab above for more information. If you have any questions and would like to meet up, or have a no-obligation chat online, please do not hesitate to contact me on my mobile or by email.
I very much look forward to hearing from you…
Sheena
"I can think of no greater privilege than having the opportunity to get alongside people at some of the most significant and poignant moments of their lives…"
Contact me
call 07732143183
email sheena.bradley@humanistceremonies.org,uk
message on Facebook facebook.com/sheenabradleycelebrant
Please click on this link to visit my own personal website: http://sheenabradleycelebrant.com