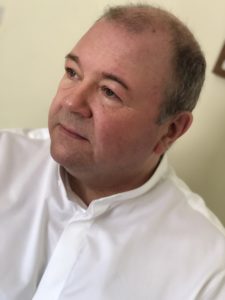 Who am I?
A committed humanist and, since 2013, a full-time celebrant in the north of England – primarily working in York, North Yorkshire, East Yorkshire and The Humber. Before becoming a celebrant I spent most of my life in business, writing – and even doing  a bit of acting.
Currently living in Malton, I have lived most of my life in London and Italy.
I love creating and leading ceremonies based on humanist philosophy but you don't have to identify as a humanist to have such a ceremony…
"Thank you so much. A few of our family are regular church-goers and they loved the service. So credit to you. Thanks again." LE, York
What can I do for you?
I will listen to you and then create a truly personal ceremony. If a funeral, I will paint in words a picture of the deceased and their life that will invoke lasting memories for those who attend. My weddings are similarly tailored to the couple and those they choose to be part of the big day.
I am happy to conduct ceremonies just about anywhere – cemeteries, crematoria, funeral directors' premises, hotels, pubs, clubs, fields, farms, woodland, private homes, boats, trains – and I have no fear of flying.
"I just wanted to say thank you very much for the amazing tribute, I and every one could not stop praising your humanity and your reassuring words at such a difficult moment. Thanks again." MC, London
A word about religion in my ceremonies…
As a celebrant with Humanists UK I may not take part in an act of worship. I cannot, therefore, say the Lord's Prayer (or any other for that matter). It would in any event be hypocritical of me to do so. I have to say that when families meet me and understand just how satisfying a genuine humanist ceremony is, most decide that such prayers are not needed. There are some people, though, with deeply held beliefs who really do feel that a prayer will give them comfort in the case of a funeral, and in those circumstances I am happy for a family member or friend to lead one prayer at an appropriate moment. It could, alternatively, be a recorded version played on the sound system.
Hymns at funerals…
Similarly, if one has a meaning for the family or the deceased I am happy to include it – though I won't lead the singing (that would be inflicting too much on you, for one thing).
"Dear Steve, I wanted to let you know how very grateful the family are for your services yesterday and over the last few weeks.  But more than this, I wanted personally to thank you for all your words yesterday, the kindness you showed my Mum and the sensitive way you managed everything.We were all so very moved and touched with the words you chose to honour my Dad.  From our relatively brief meetings you skilfully extracted the very essence of his personality and life and reflected these yesterday with beautifully chosen words and perfectly selected passages.  As a non-religious person myself I felt at moments that I had been able to obtain that peace that the believer has in the spiritual through your words about the cycle of natural elements and the natural words – it was truly beautiful. Thanks again so much for giving us all an experience which (despite our tears!) was not sad, was supporting and uplifting and calm and felt so very, very right." SD, East Yorkshire
Humanist ceremonies, even funerals, are uplifting events, each one unique to the family and their loved ones,  reflecting their lives, hopes, achievements and relationships. I enjoy all aspects of being a celebrant – meeting people, creating the ceremony, and conducting the ceremony itself. It is an immense honour and privilege to play such an important role at such an important time. I work hard to make sure that each ceremony is exactly right for the family concerned, and nothing gives me greater reward than knowing I have done a good job for them.
"We all really appreciated your warm and compassionate presence throughout the process of forming and completing the Ceremony for Mum. We were so pleased with how it went. Mum's friends and family were really happy to hear her voice throughout, many people commented on how unusual and moving it was. You helped us do this ending well for her and you managed to hold us too, your skill and tenderness was so valuable to us."
If you want a professional celebrant who has lots of experience in life and ceremonies work, is down to earth (some say laid back) friendly and approachable with a healthy sense of humour, I might just be the one for you, so please don't hesitate to make contact without any obligation.
"Steve – Thank you so much for making my Mum's funeral beautiful, joyful and 'funny' too – forever grateful. Thank you." J & V R, York
I read poems and passages on my YouTube channel: In Other Words