Want a Day to Remember?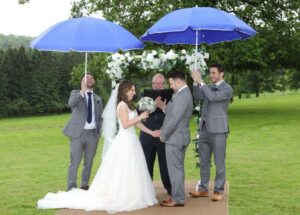 Because humanist marriages are not (yet!) legal in England, a humanist wedding can take place in almost any location, at any hour, indoors or outdoors, and can be as traditional or avant-garde as you wish.
The ceremony reflects your personalities and principles in every detail.
How 'alternative' do you want to go? It's up to you!
My wedding fees start at just £550.
Want to know more?
Give me a call on 07804 450702 or email me at: steve-emmett@steve-emmett.com
"I totally love this guy! When he met us he said we were a pair of jokers and he knew we wanted our Wedding to have the seriousness of the union of two people very much in love but also to show our fun side! Steve totally got on board with what we wanted from being married at the pop up bar to having a pop song read as one of our readings. We will be forever in his debt as we've had so many people say it was the best wedding they've been to ! Thank you so much xxxx"