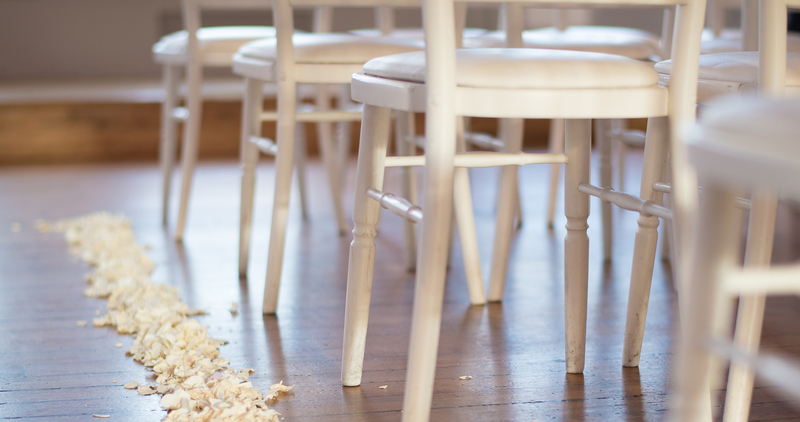 Photo: © Daniel Robinson Photography
 Humanist weddings – status
Although humanist weddings do not yet have legal recognition in England, Wales and Northern Ireland (unlike Scotland, where they have been recognised in law since 2005), we are hopeful that non-religious people will soon be given the same choice of a personally meaningful wedding ceremony that religious couples already have.

Humanists UK has been campaigning to change the marriage laws in England, Wales and Northern Ireland for many years. There has been some encouraging movement, including a test case in Northern Ireland, and in 2017 Jersey introduced new legislation to give legal recognition to both same-sex and humanist marriages.

In the meantime, couples wishing to have a humanist wedding simply take care of the legal paperwork at their local register office (shouldn't cost more than £70) either before or after their humanist ceremony. 
What is a humanist wedding?
So, while we wait for the law to change, couples who want to have a non-religious, humanist wedding ceremony can enjoy the flexibility of marrying wherever and whenever they want. You might wish to visit the FAQ section of the Humanist Ceremonies website which has lots of useful information.
How I work

Just as no two couples are the same, no two humanist wedding ceremonies are the same. You might want a same-sex wedding or civil partnership, you could be a young couple formalising a commitment, or a couple who want to renew wedding vows.
My job, as a humanist wedding celebrant is give you the ceremony that says all you want it to say as a couple and in a tone that's right for you both.
Some couples have a strong vision of what they want their humanist wedding ceremony to include. Others may want a lot more guidance and support. Whichever camp you fall into, I will work collaboratively with you to make sure we create a unique, personal ceremony that truly reflects your style and values.
There is usually at least one face-to-face meeting where I gather information about how you met, how the relationship has developed, your hopes for the marriage and your future together.
We will also discuss who else might be involved in the ceremony – for instance, delivering a reading, playing music etc. Some couples like to include a symbolic or cultural act, such as hand-fasting, sand blending, candle lighting etc. I once conducted a wedding ceremony that included a version of a Hindu phera, or fire ceremony!
The most important element is the exchange of vows and/or rings. There are lots of different ways of doing this and I will guide you through the process. It's a privilege to be asked by couples to help them make public declarations of their love and commitment. You can read some testimonials about weddings I've conducted here.

What a humanist wedding ceremony can include
There will be a different tale to tell for each couple but a basic structure often includes:

Arrival of the couple (individually or together)

Introductions and welcomes

Words about marriage


Reading or poem

The couple's story – how they met, their shared values, hopes for the future

Reading, poem or song

The couple's promises / vows

Meaningful symbolic act (e.g. hand-fasting)

Exchange of rings

Pronouncement as married

Words of well-wishing

The party starts!
Feel free to call me for a no-obligation chat to see how I can help create your unique wedding ceremony.

Telephone:  0796 9272235
Email: sue.walder@humanistceremonies.org.uk
Facebook: Sue Walder – Humanist Celebrant

Twitter: @celebrantsue1