Humanist, non-religious weddings and funerals
Your ceremony, your way…
By choosing a humanist ceremony you give yourself real freedom to create exactly the occasion you're looking for.  As your celebrant I will give you the level of help and guidance you want, to create an experience that is not only memorable, but unique and authentic, too.
As there is no need to follow a prescribed ritual, you can put your relationships with those you love, and what you value, at the forefront – as well as reflect the importance of this one life we have.
Working together we can achieve exactly the mood, tone and content that you want. I adopt a collaborative approach to devise a ceremony and script that are true to you and your outlook.  At every step you will have the chance to approve and give feedback, meaning that, come the day itself, you will have seen the final version of the script and there will be 'no surprises'.
A common misunderstanding is that a humanist ceremony is anti-religious. On the contrary, appropriate acknowledgement of those with religious beliefs can be included, such as inviting private prayer during a time for reflection.
If you'd like me to help with your wedding or a funeral, click on the appropriate tab above for more information…
I look forward to working with you.
Trevor Moore
07967 000546
About me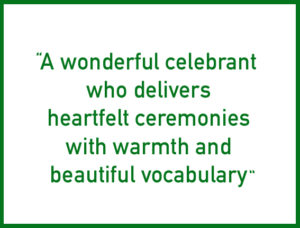 Since being accredited as a Humanists UK celebrant in 2010 I have had the opportunity to work with all ages and personalities.  My own experience in being part of a large extended family, spanning the generations, has equipped me well to do that.
My original career as a lawyer has left me with an eye for detail, alongside the ability to see the bigger picture.  So you can be reassured that I will provide a safe guiding hand as you work to achieve your aims.
Alongside my commitment to family and community, for diversion I enjoy distance running (sometimes with Harvey the labrador), photography and cooking for others (helped down with some decent wine).
Although I live in Southwark and work mostly across central and south London and its bordering counties, I am happy to consider going further afield.  I am part of a local network of celebrants operating in the same area.  Between us we can ensure that a humanist celebrant is available whenever required.
Photograph: Yang-May Ooi