About you and your life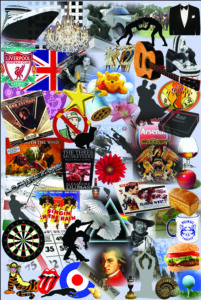 Often, after someone dies, family and friends discover how much they didn't know about the person they loved yet thought they knew. So many unanswered questions! Why not make your own record of what matters to you in your life – people, places, things, your ideas and more.
You don't need to be ill or dying to do it, indeed a good time to set things down is when you are still well. Friends and family will be hugely grateful because otherwise, when your life ends – as it certainly will – they'll be trying to put together a jigsaw puzzle with missing pieces (always frustrating).
To help your thinking, below I set out some ideas of things you might like to cover – starting with some simple factual information and then referring to areas of your life that might prompt some fond memories for you to record.
…and what about a love letter to the people who matter to you?
We sometimes find it hard to tell people face to face how much we love and respect them. You could remedy that right now. But if you can't manage that – or even if you do – why not write a love letter to those you will leave behind? You might leave instructions for it to be opened when you die, possibly with the intention of it being read out at your funeral or memorial. This can be very powerful, as well as comforting, for those you love, at a challenging time.
Happy writing…
Trevor Moore
__________________________________________________________________
[Copy and paste the list below into a document of your own (Word, Pages etc). Or you might prefer to write it all up in a notebook]
Full name
Place and date of birth
Parents/guardians – memories of the significant adults as you grew up
Any brother(s) or sister(s)? Were you close? Perhaps one or more had an influence on you, or you have a particular story about growing up together (maybe on a family holiday, or messing around in the school holidays)
Children/grandchildren and more What have you most enjoyed about being a parent, grandparent etc?
Place(s) you grew up Is there a place you can still picture in your mind – maybe where you lived, or perhaps somewhere nearby that you would go and play or hang out with friends. Have you ever been back?
School, other education or training Who did you get on with well? Are you still in touch?  What memorable things did you do (whether allowed or not!)? Was there a teacher, or maybe a mentor in an apprenticeship, who had an influence on your life decisions?
Places lived after leaving home What did you like/dislike about them?
Work Which job in your career did you find the most fulfilling? Were there people you particularly got on well with?
A meaningful achievement or proud moment
Key family/friends in life and what they have meant to you
A role model and/or someone who has inspired you? From school or work, or maybe someone famous who has done good things you admire
Particular likes and dislikes (and why)
Who or what makes you laugh?
Memorable incidents / anecdotes Which memory most makes you cringe? Which memory/memories most make you happy/laugh?
Wildlife/pets? 
Pleasures in life: hobbies, sport, socialising etc. What is your 'perfect day'?
Politics/current affairs – your take on things
Travel – memorable places/people you met
Key challenges in life
Favourite music/books/TV etc Which writer(s) work have you enjoyed? What is your taste in music – and which pieces do you rate most highly. Which films that you've seen did you find most memorable? Which actors do you most admire? Have you been to live concerts or events that stand out in your memory? Say if there is a particular significance to any of the above (maybe something you enjoyed with others?).
Environment – what is your take on green issues, natural beauty
What would be the title (and any subtitle) of your autobiography?
How do you answer the question we all ponder as we accept the one certainty about life – that it will end one day: 'What's it all about?'