Humanist non-religious weddings and partnerships
Your Wedding, Your Way!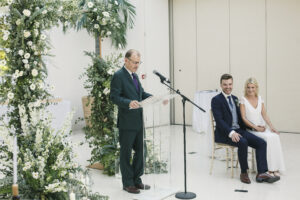 Congratulations on deciding to marry.  Exciting times lie ahead.  Your wedding day should surely be unforgettable, whether a small and intimate gathering or a grand affair.  Let me help you make sure it is – it would be a huge honour to be involved.
As your celebrant I will make an effort to get to know you and take great care to understand what you want. That approach ensures genuine sincerity on my part in leading the ceremony – you won't feel I'm some random official you've never met, just turning up on the day, because you will have made the choice.
The key benefit of a ceremony led by a Humanists UK accredited celebrant such as myself is that it can take whatever form you wish, because there are no rules. That gives you the freedom to decide the content and 'feel' you want – from the informal to the traditional – for a unique occasion that will rank among the most important and memorable days of your life. You might like to take a look at the video below…
You may wish to write elements of the ceremony yourself but don't worry if you find that idea daunting – a key part of my role is to develop the master script and advise on content, to make sure that together we achieve what you want.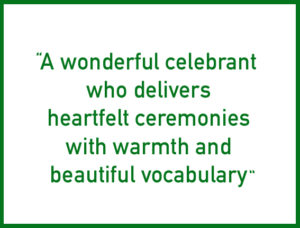 Just as importantly, for a humanist wedding you can plan your special occasion to happen wherever you wish, you are not limited to civic registered venues. You can deal with the legal formalities at a register office in the run up to the day itself (or afterwards, if you prefer) – there is a lot more useful information at this Humanists UK link: https://humanism.org.uk/ceremonies/non-religious-weddings/
Why not give me a call? Evenings and weekends are fine, if that's easier for you.
Best wishes,
Trevor
07967 000546