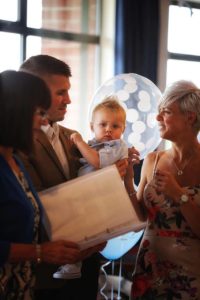 "Thank you for conducting another lovely naming day ceremony for us and writing a great script. Everyone said afterwards how much they enjoyed it – we will let you know if there is a Number 3"!!
Congratulations on becoming parents!
A naming ceremony is the perfect way to celebrate the birth of your baby and formally welcome them into your family and community. Or for some it may be a celebration of a first birthday or for older children, an adoption or becoming step children.
The ceremony
Each ceremony is unique, there is no set pattern or script, so each celebration is created to meet your needs and wishes. It may be a small, informal or intimate occasion or perhaps you may want a more grand affair. Both work equally well.
How it works
Once you decide I am the Celebrant for you and I am available to help, I will meet with you so that we can get to know each other.
I will then work with you via email and phone to plan a warm and joyful ceremony. You can select the words you want to say and can also make your own choice of music, poems and readings.
On the day I will arrive in good time to make sure everything is ready to go and will speak to the people involved.
I will be the one to read the script during the ceremony and will direct you as needed.
 Following the ceremony I will present you with a copy of your bespoke script in a presentation folder for you to keep as a reminder of the naming day.
Mark the occasion
You may want to mark the occasion with a book in which everyone present can write a message for your child to read when they are older. Or perhaps you may want to plant a tree or release balloons. If you have other children, they can join in the ceremony and perhaps read a short poem or play some music.
Guide parents or supporting adults
Since the ceremony is not religious the phrase "godparents" is not appropriate, but you may still want to choose one or two friends or relatives to be your child's "guide parents" , "supporting adults" or even "odd parents"! It can be a great comfort to know that there are people outside your family circle who know your child well and are especially concerned for their welfare and happiness.
This following film tells you more about Humanist naming ceremonies.
Transgender Naming Ceremonies
There are few milestones as important and literally life changing as gender reassignment for anyone who undergoes the transition. Adopting a new name to reflect this is a significant part of their journey, and is a symbol to the world of the change you have made. What better way to share and celebrate this occasion in a meaningful way, surrounded by those you hold dear than a Naming or Renaming Ceremony? Please contact me for details.
Fees
My fee is £290. If the venue is not local travelling expenses may be added.
My terms are a deposit to secure the booking, and the balance will be required a week before the ceremony takes place.
I contribute a percentage of each ceremony fee received to Humanists UK as a levy towards celebrants training and quality standards and to the promotion and development of the Humanists Ceremonies network. Humanists UK holds the OCN Quality Mark recognising the quality of its celebrant training programme.
Next Steps
I look forward to hearing from you very soon so that you can tell me about the wonderful ideas you have for your perfect naming ceremony. E-mail wendy@weavin.co.uk or telephone 0797 4430088.