DUE TO FAMILY  COMMITMENTS I AM CURRENTLY  UNAVAILABLE FOR FUNERALS
"You have a very special role to fulfil and you do it with such kindness and warmth".
"Your service for Mom gave my sister and I huge comfort on the day, and re-reading your words is a loving "snapshot" of Mom. It would have been so much more difficult without you. You do a wonderful job"!
"Thank you so much for a perfect send off for our Dad. We can highly recommend your warm and caring nature".
A Humanist funeral or memorial is an opportunity to remember and celebrate the life of your loved one, through tributes, readings and music.  The ceremony will be personal, dignified and unique, and can be held at a crematorium, a cemetery, a woodland burial site or any other location with permission.  Memorials take place in the setting of your choice and ashes scattering ceremonies can also be arranged. There will be no hymns or prayers, however there will be nothing within the ceremony that will offend those who have a faith.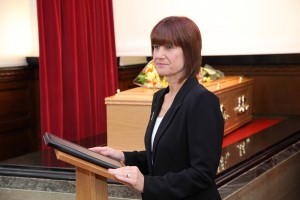 Once you have arranged to have a Humanist ceremony, I will meet with you, and possibly others closely affected by the death.  It is useful for me to get to know as much as possible about your loved one, for each ceremony is different and highly individual. Members of the family or friends can if they wish, participate with a poem, a reading or their own tribute. Music can speak direct to the emotions and can be a poignant way of reflecting on the personality of the one you have lost. All crematoriums have facilities for playing CD's and this gives considerable freedom of choice.
A typical order of ceremony
Introductory music.
Words of welcome.
Thoughts on life and death from a non religious perspective.
The tribute – an outline of the life and personality of the deceased.
Private reflection – a few moments for private thought of the deceased – in silence or accompanied by music.
The committal – when the curtains are closed or the coffin lowered.
Closing words.
Final music.
On the day of the ceremony
I will be at the location when you arrive and I will lead the cortege into the venue. I will then officiate the ceremony by reading the script I have prepared and also organise other speakers who may wish to contribute. I will also arrange for the music to be played at the correct junctures. After the ceremony I will meet with the family and other mourners on the flower terrace. I will then present you with a copy of the script in a presentation folder for you to keep.
This following film tells you more about Humanist funeral ceremonies.
Contact
Please contact me with any queries and to find out my availability for a ceremony, or you may want to contact a funeral director who will engage my services directly.
Fees
I contribute a percentage of each ceremony fee received to Humanists UK as a levy towards celebrants training and quality standards and to the promotion and development of Humanist UK's Humanist Ceremonies network. Humanists UK holds the OCN Quality Mark recognising the quality of its celebrant training programme.