"Thank you Wendy for the wonderful role you played at our recent wedding. You set the day off perfectly with the ceremony that you held for us. Thank you as well for the assistance beforehand in getting the words we wanted just right, then the way you helped and your patience on the day. Everyone there thought the ceremony was perfect, absolutely perfect in fact, and we will be forever blessed that you were there to be with us and conduct the ceremony".
Congratulations you are planning a wedding!
Humanist wedding ceremonies are certainly growing in popularity and offer an alternative to a registrar led marriage, in that you can choose your own unique wording and location. Your ceremony your way!
The Ceremony
Each Humanist wedding ceremony is as you want it to be – which could be fun, quirky, romantic and always deeply personal. Humanists look on marriage as an equal partnership and a serious commitment that involves mutual love, support and respect, and a Humanist wedding ceremony is a time when you can declare all that you feel for each other in a way that is just right for you.
Your ceremony will be unique and like no other and prepared just for you. It can be as traditional or as unusual as you like. The ceremony will focus on the two of you and your love for each other. You may want something included about how you came together, your views on marriage and the things you specially value in your relationship.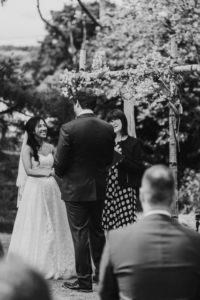 You are free to make all the important choices about words, readings and music. You can write your own promises, and I can help you with the wording.  You can exchange rings and include something a bit different such as a hand fasting or candle lighting, or other symbolic gestures you may want. You might want to involve certain friends or family members more closely in the ceremony by asking them to do a reading. Music can help create the right atmosphere and you can choose songs that have real meaning for you. Your ceremony can be held at almost any location. Many couples I have married choose to get married out of doors in the Summer and in more unusual locations.
How it works:
Once you have decided I am the right celebrant for you and I am available to help I will require a deposit of £100 to secure the booking.
We would then meet up to get to know one another and discuss your ideas and dreams for a perfect ceremony.
From the information you give me I will write a bespoke script that I will send to you, and which you can amend or add to as you wish.
To settle any nerves beforehand I would recommend a rehearsal with the key people if possible.
I would arrive in good time on the wedding day to check everything is ready to go and speak to people who are playing a part.
I will be the one to read the script during the ceremony and will direct you as needed.
Following the ceremony you will be presented with a copy of your script in a presentation folder as a reminder of your wedding day.
The following video tells you more about Humanist Wedding Ceremonies.
The Legal Side
We find that couples look on the Humanist ceremony as the moment when they are truly married. However, as a Humanist wedding does not yet form a legal marriage contract in England or Wales (it does in Scotland and Northern Ireland), it is currently necessary for you to go to a Registry Office to deal with the legal formalities. You can ask for a STATUTORY wedding which isn't generally advertised and will cost around £50 to £130 depending on your Local Authority.
Fees
My fee is £490. If the venue is not local travelling expenses may be added.
My terms are a deposit to secure the booking, and the balance will be required a week before the ceremony takes place.
I contribute a percentage of each ceremony fee received to Humanists UK as a levy towards celebrants training and quality standards and to the promotion and development of the Humanists Ceremonies network. Humanists UK holds the OCN Quality Mark recognising the quality of its celebrant training programme.
Next Steps
I very much look forward to hearing from you soon so that you can tell me all about the wonderful ideas you have for your perfect wedding ceremony. E-mail wendy@weavin.co.uk or telephone 0797 4430088.