about me
Hello, I'm Felicity, a Humanists UK accredited celebrant for Weddings, Namings and Funerals, and almost any other moments in life you want to mark or celebrate. Renewing vows? Moving house? Blending families? Adopting?
Using my creativity and understanding, I'll work with you to craft a distinctive non-religious ceremony which is all about you and those you love. One that celebrates the diversity of life. There will be humour, there will be great storytelling, and yes, sometimes there'll be tears.
From quirky to traditional to something in between, my ceremonies are completely designed with and around you. I care deeply about diversity, the environment, and about creating something meaningful to mark life's transitional moments.
I live in East Sussex, and work mainly in London and the South East, but I'm always happy to travel.
For the perfect humanist ceremony everyone will remember, please get in touch: felicity.harvest@humanistceremonies.org.uk, 01892 783226, 07708 933607
How I realised I was a Humanist
I was brought up as an atheist, but never liked defining myself by a negative.  So when I found what was then the BHA (now Humanists UK) I was so glad to discover that their beliefs were mine.
When looking for material for my daughter's naming ceremony 30 years ago, I read a Humanist publication.  I joined there and then and have been a member ever since. We have used Humanist celebrants for family funerals, and for our own wedding and renewal of vows.  Therefore I know what a rewarding experience these ceremonies can be.  They have a personal focus, and an emphasis on how we live our lives.
My Career
I started my working life as a theatre designer.  Then I went on to run several different organisations including a cinema and an environmental project. I worked in arts funding and development, finishing that part of my career as Regional Executive Director for the Arts Council here in the South East. Training as a humanist celebrant has meant that I can bring my belief in humanism together with my creativity. There are also a number of straightforward, useful skills I have learned over the years like listening, being organised, and making myself heard!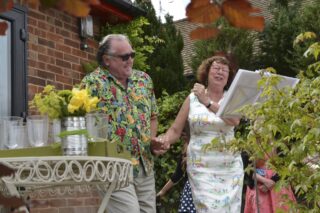 Above: Chris and Felicity's Renewal of Vows
What I do when I'm not being a humanist celebrant
When I'm not doing ceremonies, I'm very involved in supporting other Humanist UK celebrants. I am the Ceremonies Network Support Coordinator for the South East region.  This means that I support our local groups and help with recruitment and training of new celebrants. In addition, I'm a trainer, a mentor for new trainees, and one of the people who observes trainees for their final accreditation.
I also find time for walking, knitting, baking bread and gardening.  Merlin the dog is a big part of our lives, though rarely comes to ceremonies!  I am a trustee of a small arts charity locally, which works to bring artists into our community.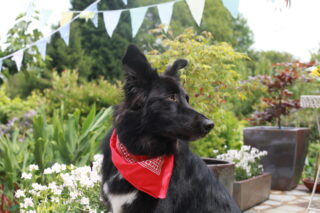 ….but Merlin did get to come to our renewal of vows
If you would like to know more, or would like to arrange a ceremony, please e-mail me at:
felicity.harvest@humanistceremonies.org.uk
or telephone:
01892 783226 or 07708 933607
You'll also find me on Facebook:  https://www.facebook.com/Humanist-Harvest-250995834915695
On Instagram: https://www.instagram.com/felicityharvestcelebrant/
And occasionally on Twitter: https://twitter.com/fharvest