I'm Frances and I have the absolute pleasure of conducting non-religious wedding ceremonies in London and the surrounding areas. I live in West London with my husband and daughter.
It was my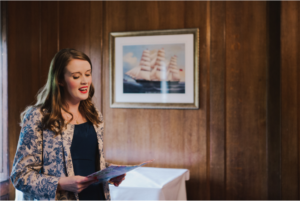 own Humanist wedding ceremony that brought me here and the fact that you're visiting my page means you're probably planning your own – so congratulations! Our celebrant rolled with our slightly off-the-wall choices – song lyrics instead of readings and unconventional vows (such as promising that there would always be a dog in our family). It's such a special opportunity to craft your own individual ceremony to celebrate your lives and loves with friends and family. You have some really fun and exciting times ahead!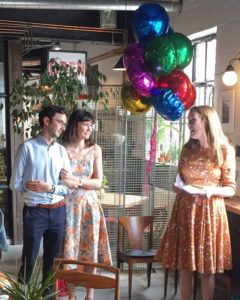 The beauty of a humanist wedding ceremony is the ability to personalise and adapt the proceedings around your personalities and interests – whatever is unique and special to you. A ceremony could be perfectly simple, beautifully traditional or completely quirky: the choice is yours! In a garden or on a roof, formal or informal, humorous, light, thoughtful, zany or romantic; or all of the above. It's such a joy to create a bespoke, completely personal celebration of you as a couple.
As part of this, I would help you to select readings, music, wedding vows and symbolic gestures which suit your individuality, as well as write a bespoke script which tells your story and what you love about each other. In essence, a humanist ceremony is a celebration of your love – of each other, of family and friends, and of life itself. That love of our one life is the foundation of beliefs of humanists.
It's a privilege to work with couples at this fun, exciting and special moment in their lives and I've included words from Lynn and Rob to sum up my approach:
'Frances conducted the most beautiful ceremony. We wanted our friends to feel involved in our marriage and to feel our gratitude, but we didn't want the day to feel too formal or stiff: this was quite a fine balance to achieve and Frances understood and embodied the feeling that we wanted to create perfectly. Her confident and relaxed style put us and our family and friends completely at ease – seeing the circle of smiles around us as she spoke was a heartening sight that will stay with us. Her encouraging way made everyone feel so comfortable and happy and her script was very thoughtfully written. As a humanist, while making us feel so special and unique for what we as individuals give to each other, she also brought a sense of faith in something bigger than our relationship to the ceremony, a faith in the power of human community of which we are all a part. Frances has such an irresistible and abiding love for people and community that radiates from her and brings people together – we felt such faith in our relationship from her. She made us all laugh and cry with her genuine and heart-given words. Thank you Frances!' Lynn and Rob, July 2017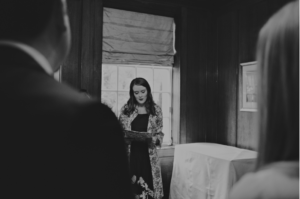 I'd be delighted to hear from you at frances.lane@humanistceremonies.org.uk or 07763873119.