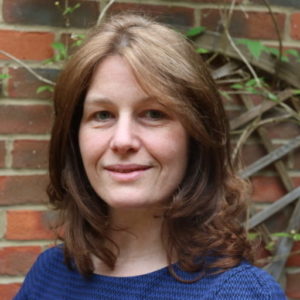 Creating the right ceremony
Arranging a funeral or memorial to remember someone and say goodbye takes careful thought, probably at a difficult time when you already have much on your mind. What is right for one family may not be the best approach for another and I'm always happy to chat about ideas – my number is 07855 272241.
Humanist funerals are centred on the life of the person who has died, as well as the needs of those saying farewell. Family members and friends often want to speak themselves, and tributes can include diverse contributions, including traditional hymns or prayers if appropriate. Sometimes I write and deliver the entire ceremony, and if you are thinking about readings, poetry or music we can work together to find the right thing.
As well as looking at your local crematorium you might like to consider the various options offered by the idyllic GreenAcres Heatherley Wood meadowland burial park, and at Clandon Wood Natural Burial Ground with its stunning glass pavilion and nature reserve. The teams who work at these peaceful places are always very welcoming.
A bit about me
I grew up in Elstead, Surrey and attended the local C of E schools. I always loved the music and language of assemblies, but even at a young age I noticed when content didn't feel relevant to me and other pupils who were non-religious or of different faiths, so it's important to me that ceremonies I lead feel inclusive to all present. After taking A-levels at Charterhouse, I studied English Literature at Exeter University. A career in marketing followed, pleasantly interrupted by my four children who are now adults. In my spare time I play the piano and clarinet, and I like walking, yoga, and cooking for friends and family.
I love being a celebrant. Meeting people and hearing their stories is fascinating, often educational, and always a privilege.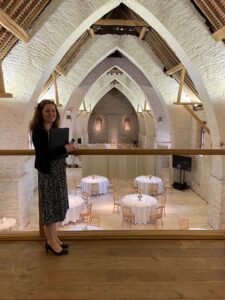 What people have said
"I wanted to reach out to say thank you so very much for the support and guidance that you provided to us last month. Grandma's funeral was a true celebration of her life and we were very grateful for all your work in shaping it and making it happen. Many people have told us that it was one of the best funerals they have attended and I'm sure grandma would have been proud." Abigail Goundry – ceremony for Doreen Laver, Guildford Crematorium, November 2023
"We all wanted to say a very big thank you for conducting June's funeral yesterday. You were so calm and reassuring that we felt more at ease than we expected; despite the emotional difficulty at certain times. We all thought that it was a great comfort hearing your soothing voice throughout, and to hear your final committal which was beautiful and so fitting as we stood outside. I really appreciated your advice in planning the day and with preparing the Eulogy too, and could feel your hand on the tiller gently guiding the day." Tina Allan – ceremony for June Mitchell, Eashing Cemetery, November 2023
"I wanted to write to say thank you for the beautiful service you provided at my Mother's funeral on Monday. It really was everything we hoped for, so calm and thoughtful, really capturing perfectly what we were looking for to look back upon my Mother's life. Thank you for the help you provided Yvette with to prep and deliver her speech, she said the time you spent with her really helped. From the moment you stepped through our door I felt we had found the right person and that reality played out. What a wonderful service you provide. We will never forget you and will always be grateful for the kindness and compassion you showed us." Steve Tolson – ceremony for Roberta Tolson, Easthampstead Park Crematorium, June 2023
"Following the service last Friday, we wanted to drop you a few lines to express our entire family's sincere thanks to you. You delivered a thoughtful, calm, meaningful and personal service during the ceremony for our loved one, and we all felt grateful to be in such careful hands at such a difficult time. You have a very difficult job dealing with distressed people and your professionalism and human kindness shone throughout, thankyou so much you really did help us all." Gill Martin – ceremony for Niall Fahey, Easthampstead Park Crematorium, June 2023
"Thank you Hannah for your invaluable help and advice with planning Paul's funeral service and for taking the pressure off the family at a very difficult and emotional time.  From our first meeting, I felt assured you were the right person to lead Paul's service with sensitivity and perception of his character, values and beliefs.  Your delivery of our memories and requests was perfect and unhurried in spite of limited time. I've had many lovely comments and remarks since. With great gratitude." Jan Wood – ceremony for her partner Paul Tuffen at Guildford Crematorium, March 2023
"Thank you, Hannah, for your care and support with my Mum's funeral.  I really appreciated the time you took with me before the event.  It made me calm on the day knowing the ceremony was in good hands.  You struck just the right note for us – not too formal, but still respectful." Susan Durward – ceremony for her mother June Gawn at The Park Crematorium, Aldershot, 26th July 2022
"Just wanted to say thanks very much for a great service you did yesterday – excellent. A lot of people said to me how professional you were, well spoken and said just the right words." Mike Piercy – ceremony for his father Frederick Piercy at Clandon Wood Natural Burial Ground, February 2022
"I just wanted to say unequivocally that you without doubt added to the beauty of our beloved Mum/Nana's funeral yesterday.  We have received so many lovely comments about what a wonderful service it was from everyone and our family abroad – it has been overwhelming and we are very proud. They thought like we did that you were marvellous and that a Humanist Celebration of Life is a wonderful thing. My Mum would have been so very pleased that she had a Humanist Service as that was a very important wish for her… We are truly grateful for the time, care and attention, good humour, patience, dignity, respect and guidance you gave to us all to allow us to do the very best for our beloved Ella. We will forever be grateful." Suzie Gortler – ceremony for her mother Ella Griffiths at Guildford Crematorium, November 2021
"I don't think I wrote to thank you for your support and management of Mum's funeral. It has taken me this long to finally replay the service online and see it as it looked to those watching on the day. It was beautifully done. You did a fantastic job of picking up the nuggets of information we gave you and turning them into a whole and evocative story. You conveyed Mum very well. You also managed the event, lightly but capably. I can see that now. I can see the extraordinary set of skills you bring to what you do and I am very grateful to you." Kathy Jones – ceremony for her mother Billie Jones at Easthampstead Park Crematorium, March 2021
"We certainly made the right choice by choosing Hannah as our humanist celebrant. With her warm and caring demeanour, she interpreted memories about our mother brilliantly and conveyed them with sentiment, blended with a moment of light heartedness at the right times." Fiona Hillman – ceremony for her mother Mary Moore at Guildford Crematorium, September 2020
"The whole family are so grateful to have found you; the ceremony under your guidance, was simply perfect… it all fell into place without a hitch or a false note. You got the measure of Auntie Di so very well and delivered such a warm and befitting tribute. Your help in finding the "perfect" venue was also welcomed and appreciated as was your suggestion for the pre-funeral family gathering. Actually, in a word….couldn't have done it so well without you." Brigitte Pickersgill – ceremony for Diana Palmer Pickersgill at GreenAcres Heatherley Wood, July 2020
"We just wanted to say a big thank you for the splendid way you conducted Tony's service… nothing seemed to be a bother to you. You were a huge help all the way through and we were so glad it was you."  The Clarke family – ceremony for Tony Clarke at Easthampstead Park Crematorium, June 2020
"We just wanted to say thank you so much again for leading our final farewell to Diane on Monday. The ceremony was just perfect for us (despite the many tears shed) and your wonderful words, delivery, tone and especially kindness were commented on by everyone. Some of our guests asked if you knew Diane, as you were so spot on in everything you said…thanks to your thorough and thoughtful meeting with us. We really could not have asked for more and felt completely confident that you would 'get it right' for us! Thank you!"  Wayne and Clare Rogers – ceremony for Diane Taylor at Basingstoke Crematorium, February 2020
"I just wanted to thank you again for the very central role you played in making Marian's funeral such a memorable occasion – not just yesterday itself but in the whole planning of the day. I lost count of the number of people – both religious and non-religious alike – who remarked on how lovely they felt the whole service had been and how fitting a tribute it was to Marian's memory."  Gordon MacLean – ceremony for his wife Marian, November 2018
"I have just received your hard copy of the text for the two ceremonies in Stuart's memory… and am reminded as to just how perfect it all was, thanks in large part to you. I have had numerous people write or tell me in person how much they enjoyed the ceremony to celebrate Stuart's life…  I really appreciate all that you did to make the day a success."  Noel Botha – ceremonies for his husband Stuart Wilson at Woking Crematorium and The Lightbox, September 2018
"I knew from the outset that you were the perfect person – Dad would have loved you, and you him.  You have a real gift for getting across the warmth and energy of the script without taking it over."  Jessie Rogers – ceremony for her father Rex Lane, January 2018
"Hannah was so engaged and genuine, it was almost as if she was a family friend. Everyone said the ceremonies they attended were perfect."  M Howes – ceremonies for Sylvia Codling, November 2017
"Please thank Hannah for adding just the right note."  Charles and Carol Howe – ceremony for Pat Hewett, July 2017
Email: hannahcelebrant@gmail.com