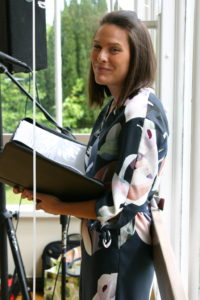 Ever since I could speak, I've been one of life's story tellers. And nothing gives more pleasure than unearthing the extraordinary buried in the everyday – and finding the right words to do it justice.
That's how I found myself becoming a British Humanist Association wedding celebrant to help couples tell their love story and create a unique and meaningful ceremony that's perfect for them.
Together, free of the constraints of religious or civil ceremonies, we can tailor-make the script that suits your celebration – including same sex marriages and renewals of vows.
Working as a television news reporter for the past 15 years, has allowed me a hugely privileged insight into people's lives, often at their most joyous. And as an upbeat, enthusiastic celebrant, it is an honour to offer support and inspiration in all aspects of planning a couple's ceremony and be at the heart of their big day.
For this, I will travel anywhere.
I have lived and worked in the North East of England since 2009, but my roots are in the Cornish coast and countryside. Running shoes have accompanied my every far-flung adventure.
But in this one life we have, I passionately believe we can be deeply fulfilled simply standing still, telling the one we love – they are the one for life!