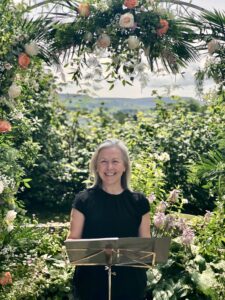 Hello, my name is Karen Hewitt and I'm a Humanist wedding celebrant. I am based in Manchester but happy to travel further afield, including Cheshire, Derbyshire and London, if in doubt just ask. I will also travel abroad for ceremonies.
In addition to being a celebrant I work as a health visitor in Manchester and prior to this I was a midwife. My job allows me to meet and build relationships with people from many different backgrounds and cultures. It's a privilege to be allowed into their lives at such a special time. I love to hear their life-stories and to discover what is important to them and their families.
I am also a creative person. I have degrees in photography and visual culture, and have worked for Manchester International Festival and The Whitworth Gallery. I have an eye for detail and understand the importance of the presentation of your special day.
Being a wedding celebrant allows me to meet fascinating people and express my creativity by creating a personal ceremony just for them. It really is the perfect job!
Humanist ceremonies celebrate life's significant events in a positive and meaningful way. I became interested in Humanism after my mother's Humanist funeral. I found that being involved in creating a personal celebration of her life was a healing experience. This led me to want to find out more about Humanism and Humanist values.
As a Humanists UK celebrant I am fully trained and able to guide you through your choices to create a special wedding ceremony that is bespoke and perfect for you. Every relationship is unique and every couple has their own story. No other couple has been through your journey and no other couple will have your plans for their future.
If you would like to get in touch please email me. I will  be happy to answer any questions you have, there is no obligation to go ahead. I would suggest an initial meeting (FaceTime or Skype if you don't live near Manchester). If you decide you would like to book me as your celebrant a deposit will secure the date. I will then work to create your wedding script, based on the information you give me. We will continue to work on it together until you are happy with the result.
In the meantime, congratulations and good luck with your wedding plans.
Please go to my website northernheartandsoulweddings.com and Facebook page 'Karen Hewitt Humanist Wedding Celebrant' for more updates and images.
Testimonials
"Karen was a really wonderful person to work with. She was patient when we were slow and she took the time to really get to know us. Everyone who attended our ceremony told us how wonderful she was and how much they enjoyed the ceremony – although we did also get some telling offs for making people cry! Karen told our story through the ceremony and it was just perfect in every way" E & E
"Karen was fabulous. She was professional and thorough, creating a ceremony that was personal, thoughtful and entertaining" E & D
"Karen was open and understanding of what we wanted from our ceremony form the start. She could not have been more helpful to us throughout the whole process, giving and providing feedback on suggestions and our thoughts for our ceremony. There was great communication from the start. Karen had everything under control on the day and the ceremony was brilliant" S & M
Covid-19 update
These are difficult times, when many of us are worried about the health and well-being of those we love. It is a time for reflection and re-evaluation of what is important in our lives, and also to appreciate what we have.
I feel incredibly proud to work for the NHS, and would like to offer a 25% fee reduction to all of my NHS colleagues and other key workers who are working so hard to keep us safe. Thank you.