Welcome!
You've most probably arrived at this page because you're getting married so, HURRAH & Congratulations!
Not least as you are considering a Humanist/non religious ceremony which is fantastic as it means you can have the ceremony that YOU both want, which isn't limited by geography or legal & religious ceremonial constraints.
Im Kate,  Humanist wedding celebrant based in East Anglia, and I work across the UK and beyond.
Humanist weddings come in all shapes & sizes, the one thing that unites them is they are uniquely personal; designed by the people at the centre of the event – the couple (yes, thats you!)
Its Your Wedding, Your Way! Here's How……..
Marking the most important ocassions in life is hugely important, and making sure everything goes according to plan means you and your loved ones will have an experie
nce to cherish for ever – which is where I come in!
As a celebrant I will work with you from day 1, designing a ceremony that reflects both of you  – whether you have tons of ideas or none at all, I will ensure that together we craft a significant ceremony and a day truly to remember
Creating a ceremony with a couple is a joyous collabration which I really enjoy, bringing my 20+ years skills and experience from the arts and events world. It has also given me a flexibility to be able to work where and however you wish; whether you want to be outside, inside, or waterside!
This means the event and script will flow naturally and good humouredly, with all the elements you both wish to include in your ceremony. I can help with ideas for whatever you want at your ceremony  – readings, music, symbolism, staging, location and any other elements you wish to bring to your ceremony.  No two ceremonies are the same and as everything about them is entirely bespoke – the only thing they may have in common is everyone leaves with an enormous SMILE!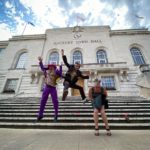 "Your originality and energy meant our wedding transformed into an inspiring and moving ceremony that will be with us forever"
Sam & Jez, Lilley, Hertfordshire
Heres Why!
I LOVE what I do.The reason I'm a celebrant is because a close friend asked me to write and lead their wedding ceremony, without even realising that this could be a dream job for me! Its such an amazing experience to go on the journey with a couple as they plan and craft their ceremony. Every one is entirely different and can feature a multitude of elements from whole choirs singing in country manors through Bonnie & Clyde themed parties to a small assembly swimming in the sea.
"What a truly fantastic day, we couldn't have done it without you!"
Steph & Neil, Hackney London
A Bit About Me…
I've worked in the performing arts & circus world for over 20 years as a performer, creator, director and teacher. I taught at The National Centre of Circus Arts for 15 years. I grew up in Norfolk, lived in London for 28 years and have recently come home to the Broads. I live with my partner, teenage daughter and 2 cats. We love travelling around in our VW '72 Bay Camper Van camping and going to festivals.
I've travelled the world through my work, but have always cherished returning to loved ones. I strive to mantain connection with my friends & family who are spread far & wide and believe whole-heartedly in the ritual of communal gatherings to come together whenever possible.
"She immediately understood the tone and style we preferred for our event and effectively rescued it. She happily completed a large amount of work in a short time without fuss and with sensitivity to our changing needs. Without her our ceremony would not have happened."
Jo and Jake, Walthamstow, London
Call Me!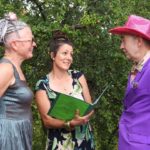 So do get in touch for a inital no-strings m
eet or chat about your thoughts & hopes for your wedding. If we decide that we're going to make a wedding together then we will meet up again for a more indepth chat & planning session.
And do check out my facebook: https://www.facebook.com/KateEvansCelebrant/
& Instagram: https://www.instagram.com/kateevanscelebrant/