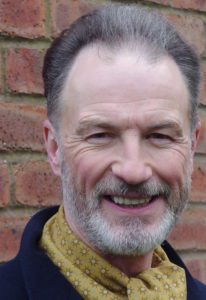 ***
COVID-19
FOR AN UPDATE ON THE CURRENT SITUATION AS IT APPLIES TO FUNERALS, PLEASE SEE BELOW
***
I perform non-religious funerals throughout Birmingham and the West Midlands, and further afield by arrangement.
For over 25 years before I became a celebrant, I was a radio producer working for The Archers on BBC Radio 4 – and I still write scripts for the programme. So if you choose me to create and perform your funeral ceremony, you will benefit from my decades of storytelling experience.
I will create a vivid and accurate word picture of the person who has died, enhanced with music and readings which perfectly reflect the way you wish to say goodbye to them.

"…It was the best funeral I have ever attended…"
I am a confident and expressive public speaker. I place great importance on striking the correct tone for the occasion, and using appropriate language. I will do my utmost to create a ceremony that you, and your family and friends, will be able to take comfort from.
Please click to learn more about how I would work with you, and some thoughts on content which the ceremony might include.

"…It seems an odd thing to say about a funeral, but I really enjoyed it…"
If you would like discuss how to celebrate the life of the person who has died, and how best to mark the occasion, do please get in touch on 07 870 812 949 or mail@keridavies.net.
It would be an honour to help you at this important time.
As an accredited celebrant:
I have been specially selected and thoroughly trained.
I have to undertake continuing professional development.
My work is peer reviewed.
I have been DBS (criminal record) checked.
I am covered by public liability and professional indemnity insurance.
This ensures the highest possible standards for my clients.
"…Keri was well organised, approachable, amenable, professional and did an excellent job…"
********************************************************************************************************
COVID – 19
Updated 4 January 2021
Funeral celebrants have been classified as key workers by the UK Government.
There are still significant curbs on how funerals can be conducted, according to  UK Government policy and local arrangements.
In Birmingham City Council cemeteries and crematoria, restrictions include:
Any planning meetings must be conducted remotely, eg through a video or audio call.
The numbers of mourners attending are limited to 30 people.
Government advice allows people in 'at risk' groups to attend funerals, as well as people who are isolating for 14 days because a member of the household has symptoms. But this excludes people suffering from viral symptoms, and processes must be put in place to minimise the risk of transmission.
There are physical restrictions on the whole process, including waiting for the hearse and carrying or touching the coffin.
Ceremonies are sometimes of a shorter duration than usual.
Face coverings are recommended. Personal distancing measures mean that comforting gestures such as handshakes and hugs with people outside of your household group or bubble are not possible.
If more than 30 people wish to take part in the ceremony, you may like to consider these options:
Some crematoria are able to webcast the event, so that those who cannot attend in person can view it (there may be an additional charge for this).
Alternatively, it may be possible for one of the mourners to provide this service, or to video the ceremony so that it can be viewed later.
We can send a script of the ceremony in advance, with details of the music and readings, so that remote friends and family can feel a part of it.
It may be worth considering a 'direct' or 'unattended' cremation (at which mourners are not present), to be followed by a memorial ceremony when restrictions are lifted.
Or we could arrange a short committal ceremony at a crematorium, attended by a small number of mourners as explained above. Again, this can be followed by a memorial ceremony attended by a larger number of people at a convenient date.
Having a later memorial event enables everyone who wishes to be present to take part; gives greater flexibility over location and duration; and will allow for a full and personal celebration and farewell. (Memorial events under current conditions are restricted to six participants.)
I am happy to talk through all these possibilities and opportunities. You can contact me without obligation on 07 870 812 949 or mail@keridavies.net.
********************************************************************************************************
I conduct my work according to the principles of the Funeral Celebrant Accord.