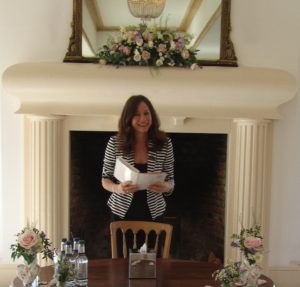 Hello, I'm Lisa.
I plan, create and conduct beautiful, personalised wedding ceremonies.
Whether you'd like yours to be intimate, grand, traditional or quirky, it'll be written especially for you – to truly reflect your personalities, your unique relationship and your outlook on life.
I was previously a Ceremonies Registrar for Hampshire and as such I've officiated at many hundreds of marriages in dozens of venue types.  I became a Humanist Celebrant in order to meet the growing demand of couples wishing to marry in a setting of their choice, and to have the creative freedom to tailor their ceremony exactly as they wish.
I work hard to craft each ceremony with love and care and deliver it with warmth, sincerity and enthusiasm. You can be sure of a well-structured ceremony since I also work in publishing; previously as Commissioning Editor at Macmillan and now freelance.
If you're thinking about having a Humanist wedding I'd be delighted to discuss your ideas with you, guide you with advice on what works well and offer plenty of suggestions for things you might like to include: readings, music, personalised vows, symbolic gestures – and lovely ways to involve your family and friends.

Together we'll create a meaningful, enjoyable ceremony that suits you perfectly and that you and your guests will remember for years to come.
I look forward to hearing from you,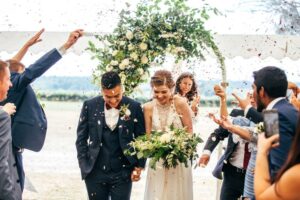 Lisa
email your enquiry
or call +44 (0)78 12345 826.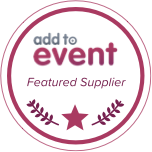 Testimonials
'Lisa was absolutely brilliant. Our ceremony was a perfect representation of us as a couple and everything that is important to us. So many of our guests commented on how lovely the ceremony was and how unique and just like us it was.'
Libby & Nick Harewood Forest September 2022
'We have just got back from our honeymoon and wanted to say another thank you for the amazing job that you did for us.  We were so happy with the ceremony – you have really helped make it a memorable day for us that we will always look back on happily.'
Felix & Charlie Clock Barn Tufton Warren September 2022
'Sorry we didn't get a chance to say goodbye to you yesterday. The ceremony was very well received by all of our guests. When we came back from doing our couple photos, every guest we spoke to said they really enjoyed the ceremony. They loved how personal it was and they loved the wedding-ring warming. Some even said that it was the best ceremony they had ever attended and they wanted to have a ceremony with a humanist celebrant if they ever get married. Even one of our guests who is religious was talking about having a humanist celebrant instead of a church ceremony. We received so much praise for the ceremony and it was all because of you. You did such a fantastic job. I've even had guests say that they would like to contact you if they ever got married.
Thank you for being so thorough from the day I contacted you back in 2020 to the wedding day. You guided us perfectly and you gave us the ceremony we will remember fondly for the rest of our lives.'
Janet & Mark, Old Thorns Hotel & Resort April 2022
'The service was absolutely wonderful. Utter perfection – thank you so much! So many people have said what a wonderful service it was.'
– Charlotte & Ed, Pylewell Park September 2021
'We just wanted to say a huge thank you for conducting such a special wedding ceremony for us on Saturday. We are over the moon with how it went and so many people complimented the uniqueness and said how beautiful it was with the perfect balance of happy moments and also emotional moments too.'
– Georgia & Fraser, Horton Heath marquee, July 2021
'Thank you so much for being such a brilliant celebrant at our wedding in the woods. The service and rituals were perfect for us and you wrote and spoke so movingly about us as a couple. We'll always be grateful and have fond memories of the day, as will our families.'
– Kathryn & Ollie, Crab Wood September 2020
'Lisa was amazing, the ceremony was exactly what we were looking for and more! We couldn't recommend her enough!!! She went above and beyond to ensure we were comfortable with everything'
– Nicole & Jamie, Lainston House September 2019
'We were thoroughly pleased with all the support and guidance you gave us and what ultimately made our wedding so special. So many of our friends and family commented on how beautiful it was, as did the venue. Once again, thank you for such a beautiful ceremony'
– Craig & Nina, Gorse Hill September 2019
'Lisa was lovely from the moment we first met her, understanding us and our relationship perfectly. She helped us create a perfect ceremony which received countless compliments'
– Hannah & Matt, The Long Barn August 2019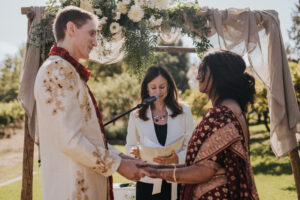 'Lisa was simply fantastic. The ceremony reflected everything we hoped to capture during the day: love, commitment and joy and Lisa helped us bring that to light. Our guests and families also loved it!'
– Lara & Matthias, Quinta de Sant'Ana Portugal, July 2019
'We wanted to thank you again for all the hard work you put in for creating our ceremony. The ceremony was our favourite part of the day (as well as taking our photos) and you were our favourite supplier. Thank you so much for understanding exactly what we wanted in our ceremony and for creating such a beautiful, personal script and delivering it faultlessly. You made the experience so enjoyable and your reliability made this aspect of the wedding stress-free! Our guests complimented us so much on the ceremony (and your lovely outfit) and it was greatly enjoyed by both our Iranian guests and non -Iranian guests.'
– Ghazal & Ashkan, Bury Court Barn, July 2019
'I just want to say how many people we've had commenting on our ceremony, it really has been overwhelming the feedback on it.  It was amazing in every way.  You made the day and I'm so grateful to you for what you did.  Thank you.'
– Sophie & Tom, Fullerton Estate, June 2019
Read more about this ceremony is this blog post
'Such care and attention was taken to make the ceremony so personal and meaningful to us as a couple but also to us both as individuals. The flexibility to tailor the ceremony as we wanted was a creatively fun process and and all of our guests commented on how personal and moving the ceremony was and how good Lisa was. The realistic yet morally 'good' readings helped to express our scientific and evidence-based outlook on life, love, the universe and everything in a relatable and moving way. We could not have been happier with the experience.'
– Ollie & Katie, Skylark Golf & Country Club, Whitely, April 2019
'The ceremony was so wonderful and personal. Almost everyone who attended remarked on how fantastic it was; even those who follow a specific religion really loved it!'
-Fin & Rach  Old Thorns Hotel, Golf & Spa, Liphook, October 2018
'Totally amazing service.  Thanks so much, we can't stop talking about how special you made our day.
Absolutely perfect.  You were just brilliant.'
– Oyuna & Jay, Hacienda Sol, Vélez-Málaga, September 2018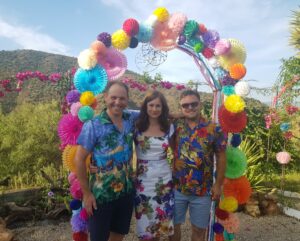 'A big thank you from both of us for such an amazing ceremony yesterday – it really was great 🙂  We had non-stop comments all day from people saying how it was one of the best ceremonies they'd been to, and they loved how 'us' it was 🙂 '
– Adam & Sarah, Clock Barn, Tufton Warren, August 2018
'Thank you for making our wedding day so special and unique. We absolutely loved the humanist ceremony, it fitted with our personalities perfectly! We had many compliments about the ceremony and about you! All the guests loved the personal details you put into it and the ring-warming and hand-fastening made it a much more memorable occasion compared to the traditional route. Our guests also commented on how well you delivered the ceremony and how your calm, friendly manner made it even more special. We had a brilliant day and it was exactly how we wanted our wedding to be. Thanks again.'
– Katie & Simon, Lingfield, August 2018
'Not only was Lisa amazing on the day of our wedding, the preparation and organisation in the lead up to our ceremony was out of this world. She was always thinking ahead and helped me to incorporate my parents and step parents into our personalised wedding day. I could not recommend Lisa more highly.'
– Aziza & Jason, Northbrook Park, August 2018
'Thank you so much for doing our ceremony on the 14th July.  It was more than we could have ever wished for and a number of our guests have commented that it was the best wedding ceremony they had been to because of how personal it was 🙂 so thank you so much for conducting it – it was brilliant!'
– Katie & Dan, The Long Barn, Newton Valence, July 2018.
This ceremony featured in whimsical wonderland weddings blog
'Best day ever. Lisa was the perfect celebrant. She was really on the mark with the words she wrote based on our conversations. She effortlessly understood the kind of people we are and what we wanted on our big day and in our lives so the service was thoughtfully and brilliantly curated and delivered. We will always be very grateful to Lisa.'
– Thom & Andy, Leckford Estate July 2018
'Just wanted to say a HUGE thank you for last week.  We had some lovely comments about how well you conducted the ceremony and the life/joy you brought to it.  A lot of people had never been to something like that before and loved how it was so incredibly personal.  We could not have been happier that you were the ones to lead us into married life.'
– Tasmin & Rob, Upton Grey garden, May 2018
'Thanks so much for your work for the ceremony – everyone told us how much they loved it and we were really happy with how it all went, had the best day!'
– Laura & Laurie, Ufton Court, May 2018
'Thank you for being our celebrant for our special day and for being all round amazing.'
– Lauren & Gary, Southampton City Art Gallery, May 2018
'…we knew from the outset from your gentle charm that you would make our wedding special.  You did not disappoint us in any way.  You created a lovely ceremony and added an atmosphere and a warmth that drew everyone together.  You've done an amazing job co-ordinating everybody's participation (how you made the peacocks cheer at appropriate moments is beyond us!)  We know we couldn't have chosen a better person to lead us into our future together.  Thank you.'
– Irina & Malcolm, Busbridge Lakes, April 2018
'The ceremony was just perfect – it was so warm and personal and everything we wanted it to be, and we're so grateful for how you prepared it all and also delivered it on the day. Many of our guests commented on how lovely it was, and also how lovely you were! (-:
It really was exactly as we had hoped and we were so happy to have you as our celebrant.'
– Carrie & Lloyd, Tithe Barn, Petersfield, March 2018
'Lisa did such a beautiful job of making the ceremony personal and meaningful to us. It was so much more than we hoped for.'
– Ramster Hall, Chiddingfold, February 2018
'Lisa, Thank you dearly for the wonderful ceremony on Saturday. Tessa and I LOVED it as did our friends. Lots of people went as far as saying that it was the best wedding ceremony that they'd ever attended, thanks to you, and that they would like to have a humanist ceremony themselves! I can't think of a higher endorsement.  Thank you again for helping make it such a special day for us. We will treasure the memories.'
– John & Tessa, Timsbury marquee, January 2018
'…a massive thank you for making our wedding day so special.  We were particularly touched by your words and the lengths to which you'd gone to make the ceremony so personal to us.  It was absolutely beautiful and we've had so many comments from our guests saying how very "us" it was, so thank you for understanding our vision and surpassing our expectations on the day.'
– Becca & Si, Bramdean Plantation, August 2017
'We wanted to say a massive thank you for all your help and hard work in making our ceremony run so smoothly and really special to us. Everyone said how beautiful the ceremony was.  Our parents especially were really touched by the ceremony and I wasn't even half as nervous as I thought I would be, so thank you so much for that.  If you have a website for reviews we would love to recommend you.'
– Maria & Pete, Barton's Mill, August 2017
'Thank you so so so much for our wonderful ceremony. It was absolutely the best day of our lives and you played such a huge part in it. We had so many people come up to us on the day and more since to say how great you were and how personal the ceremony was. A married couple who were there were even talking seriously about having a humanist ceremony as a type of reaffirmation they were so impressed with ours.  So thank you once again for making our day so special.'
– Alex & Rob, Bighton marquee, August 2017
'We had such a lovely day! We've had nothing but high praise for you and the service, a lot of people remarking it's the best ceremony they'd ever witnessed, so thank you so much for writing us such a personal and touching ceremony, it was absolutely perfect!'
– Rosy & Oli, Hambledon marquee, July 2017