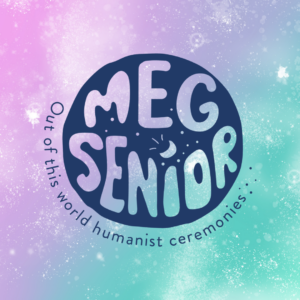 Out of this world humanist ceremonies

As you've landed on my page, I imagine congratulations are in order! If you're planning a wedding, or thinking of having a naming ceremony for your child, then HOORAY I'm sending you my very best wishes.
I am a humanist celebrant based in Sheffield, and I would love to create a bespoke ceremony for you and your loved ones to celebrate this milestone in your life. Together we can craft a script based on your values, your story and your family.
My job is to make the whole process as enjoyable and simple as possible. If you're hoping for a celebrant who will make your life easy (shout out to the tired parents out there…) and be as excited as you are about your day then you've come to the right place.
Your humanist ceremony will be unique to you. It can intimate, fun, relaxed, meaningful… basically it can be exactly what you want it to be. You have complete ownership to include the people, wording, poems, music and symbolic gestures that are important to you.
And of course, once we've settled on a perfect script, we will have a stellar event to create joyous memories too. Can't wait? Me neither!
If you're starting to plan a humanist wedding or naming ceremony and have lots of questions, or you'd like to enquire about booking then do get in touch.
You can find out more about me on my website www.megsenior.com