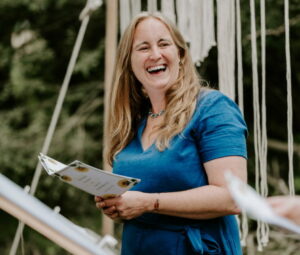 Hi there! My name is Po Midwinter and I am a Humanist wedding and Funeral celebrant. One of my favourite descriptions from other people about me is how down to earth I am. This is a wonderful compliment, so I proudly display it here. Down to Earth ceremonies – whether we are celebrating or marking the end of someone's life, or the joining of two lives, I will be real, present and true throughout your ceremony.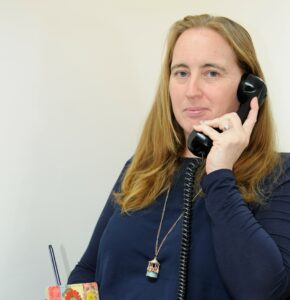 I am a huge fan of poetry and prose, ancient and modern. I am equally at home reading John Masefield as Fleabag, I love Shakespeare, Nine Inch Nails, Robert Browning and Caryl Churchill, and can discuss your chosen readings with you until the cows come home. We can talk about which you choose (if any!), where they go in the ceremony, and who you would like to read them. I can also aid readers with tips, as I have been an Elocution teacher for thirteen years now. I work online, using Skype / Zoom etc, so I am super confident with technology for preparation of your ceremony. Right by my computer you can see a small selection of my poetry books – I inherited my love of poetry from my Mum, and when she died I gladly took in all of her books to add to mine.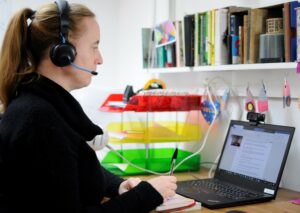 I'm a Forest School Leader and Manager, so I have a great appreciation for the outdoors. I am happy in any weather conditions, if you are, and I am very adaptable. I'll rock up in whatever clothing is necessary for the event to take place, wherever it is. I work with children and animals on a regular basis, so nothing will phase me for your ceremony. I can hold a horse, dog or rat, support a child reading aloud, manage large groups of people and hold a quiet moment of reflection.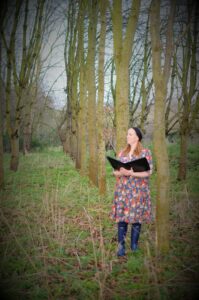 I was welcomed into the celebrant field with open arms. From those that I trained with, to those online who have sent me support, to suppliers who have featured me on Instagram, to families and couples sending me enquiries, to couples whose weddings I have run to families whose funerals I have overseen.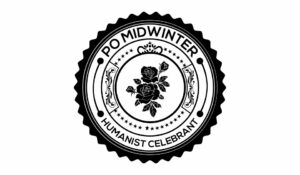 I was bowled over by my friends and family's response when I said that I was going to be a Celebrant. Everyone said really lovely things! They said I'd be great at it, that I was warm, funny and personable. They said I was good at talking to absolutely everyone and that my public speaking background would make every ceremony interesting and (very importantly) audible.
Get in touch, follow me on social media, reach out and say hi. I am looking forward to hearing from you.