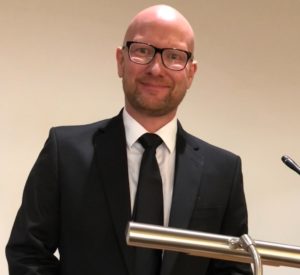 "Richard is very unique and very brilliant"
"Dear Richard, I would just like to thank you for conducting the celebration of my dad's life.  It was exactly what I'd hoped for.  It made a difficult day more bearable for all the family."
"Dear Richard, just a thank you card for the lovely service you led for my grandad.  You delivered it so well and he would have loved it, as did the family.  Your kind, thoughtful, and at times funny reading helped to slightly ease the grief of losing my brilliant grandad. You are clearly a very thoughtful and talented man who I/the family wish you all the best for the future".
Richard retired in January 2017 at the relatively young age of 49.  Faced with (hopefully) many years left in life, he decided that an already active family (including grandchildren!), dogs, sporting and music centered-life needed to be complemented with further 'meaning and purpose'.
Already an active Humanist, Richard decided that an obvious new direction was to become a non-religious Humanists UK celebrant where he could transfer his skills (both 'natured' and 'nurtured'!) into further helping others.
Some of the amazing testimonials he has received (click on the button above) from families have had such a profound effect on him both personally and professionally.  Each funeral and wedding has brought with it a sense of real privilege, which is what drives him to provide the best quality of service that he can. That said, he continually strives to develop and learn from others.
Richard lives in Weeton between Preston and Blackpool, which is ideally situated next to an excellent motorway network.  However, he works mainly in the Fylde, Wyre, Preston, Lancaster, and Blackpool areas.  He is prepared to travel further – particularly to his beloved home county of Yorkshire.
In the Autumn of 2018, Richard trained and was accredited to be a Humanist wedding celebrant.  He has already conducted many wonderful wedding and vow renewal ceremonies all over Lancashire and beyond, with his most treasured feedback being "very unique and very brilliant".
Please do not hesitate to contact Richard if you would like further information – contact details are on the right of this page.