Welcome
Hello, my name is Ruth Brown-Shepherd. I provide personalised non-religious funeral ceremony services and memorials in Huddersfield, Kirklees, Halifax and Calderdale in West Yorkshire. When planning a funeral, you often have many options to consider in a short space of time. The below information will help you decide whether I am the right celebrant for you.
Other regions covered
Do you require a Humanist Funeral Celebrant to conduct a non-religious funeral ceremony in another part of Yorkshire and the Humber?  If so, I would be more than happy to put you in contact with one of my colleagues in the network.
Your Humanist funeral ceremony
A Humanist funeral ceremony is a non-religious personalised service, which helps you to celebrate the life of a loved one who has died.
For a standard ceremony, you will receive the following service:
A meeting (in person or online) at a convenient time for you
Preparation of the ceremony script
Management of contributions from others, as requested by you
An opportunity for you to review the funeral 'Tribute' and provide feedback for accuracy
A bespoke Humanist funeral ceremony lasting up to 30 minutes (depending on venue requirements)
The final ceremony 'Presentation Script' for you to keep
It is your ceremony, so you will decide what is included. I will be there to guide you throughout. If you have a lot of people wanting to contribute on the day, we can discuss the alternative service options available to you.
How much will it cost?
The total cost for a standard service, including a funeral ceremony of up to 30 minutes is £210. Pricing for bespoke service packages are available upon request. All pricing is aligned with Humanists UK's recommended fee structure.
Why choose R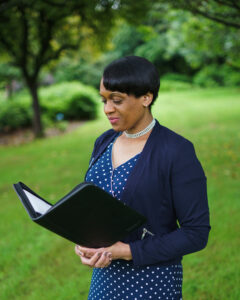 uth?

My first introduction to Humanism was in 2010, as one of my friends at university was a Humanist Wedding Celebrant.  I subsequently learnt that a Humanist was someone whose knowledge and understanding of the world, is based on rational or evidence-based facts.  They live an ethical life by being authentic, compassionate and respectful of others. In addition, they strive to build a fair and equal society for all.  As a PhD qualified scientist, it did not take me long to realise that the Humanist values were very aligned with my own approach to life.

So… why did I become a Humanist Funeral Celebrant?  Prior to joining the Humanist Celebrant Network, I had attended a total of 20 funerals in my life and had personally organised two of them for close family members.  Being comfortable with death and funeral environments, presented me with a humble opportunity to help others at a time when they need it most.  Having previously experienced the loss of someone close to me, I understand the importance of capturing the memories you once shared with them.
Recent News