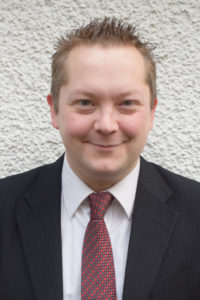 Hello!
I am an accredited wedding, naming and funeral celebrant with Humanists UK, and the head of the celebrant network here in Northern Ireland.
I live in Newtownabbey (just north of Belfast) and I'm available to conduct wedding and funeral ceremonies across the country. For information on weddings and funerals, click the relevant tab at the top of this page.
Finding the right celebrant is incredibly important, so here's a little about me:
I grew up and was educated in Oxford before moving to Northern Ireland twelve years ago after meeting my wife. I'm a committee member of Northern Ireland Humanists, so as well as conducting ceremonies I've been involved in campaigning for changes to the law on same-sex marriage, education syllabus reform and other key social issues where change is needed in Northern Ireland.
After a series of dull office jobs, I trained as a Humanists UK celebrant five years ago and have found it be an incredibly rewarding and enjoyable role. I am passionate about delivering unique and meaningful ceremonies for people across Northern Ireland. I was fortunate enough to conduct the first legal humanist wedding in Northern Ireland after our successful court victory in 2018, and I am the most experienced practising celebrant in the country. I love my role and would be delighted to work with you to create something really special and memorable.
My contact details are on the right hand side of this page, or use the form below. I look forward to hearing from you!