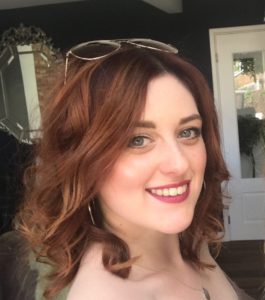 Welcome!
Thank you for clicking onto my page and also congratulations, as this probably means you have a big celebration coming up! I am Tanith, an accredited wedding celebrant for the Humanists UK. I am absolutely obsessed with weddings and everything that goes into them, and love that being a wedding celebrant means I can taylor a script for a ceremony that is completely personal to you and your story. Working with couples to create a moment in time that is all about them, and using their own words to really capture their essence is so special and rewarding, and is why I
love being able to conduct ceremonies.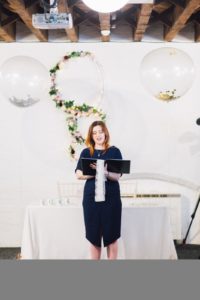 If you're the kind of couple who dream of tying the knot half way up a mountain and want to feel a connection to nature, or you want a formal affair in a beautiful manor house, I would love to help bring your ideas to life. Every ceremony should be completely unique, and half of the fun is in the planning and coming up with new and creative ideas.
My journey to becoming a Humanist Wedding Celebrant started when I had my own humanist wedding, so it is safe to say I have been on both sides of the table. I can fully relate to the stress of planning a wedding and the desire to have a ceremony that is personal and stands out from the crowd. To the right is a picture of my own wedding day. We wanted a laid back ceremony, with enough formality to feel like a 'wedding' and most importantly, it had to be outside…at the end of October. I had dreamed of getting married underneath willow trees for as long as I can remember, so the ability to fulfil this wish was crucial to our day. Afterwards, the thought of being able to work with couples to bring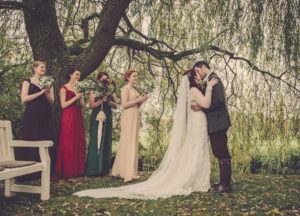 their dream day to life started me on this path, and voila, here I am today!
But that's enough about me; as a wedding celebrant the real focus is on the couple, and I would love to hear all about your story and the plans for your big day. I am based in Worcestershire, but cover a really wide area, so please don't hesitate to get in touch, wherever your ceremony location!