Humanist Wedding | Vow Renewal | Elopements
Commitment | Online Ceremonies.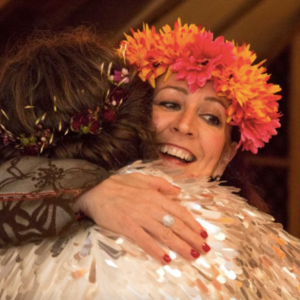 Hello and welcome,
I'm Eliza and I craft and deliver joyful,  authentic and memorable ceremonies for contemporary couples. I specialise in outdoor and inclusive Humanist and non-religious weddings 

in the UK and Southern Spain (Andalucia).
A discovery consultation is free and with no obligation, so why not  contact me and let's get started!
Meaningful Ceremonies for Contemporary Couples
You've reached a milestone in your lives and are looking to celebrate this in a ceremony which is personal, authentic, meaningful and enjoyable.  A ceremony which reflects you, your personalities and your values – one which celebrates your uniqueness as individuals and as a couple.  Well, that's just fantastic because this is exactly what I do!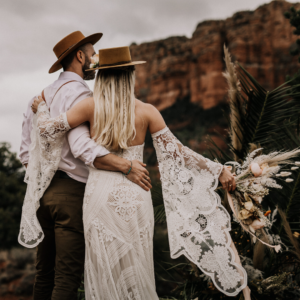 'Ceremonies help us carry forward what is meaningful in families and groups and help us mark the time of our fleeting lives'.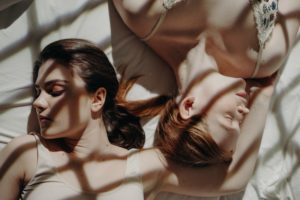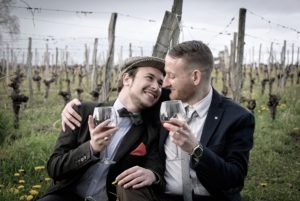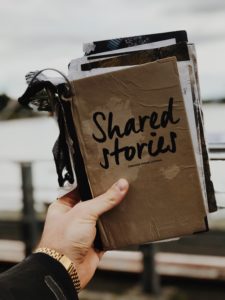 "Her warmth, energy and humour made the ceremony so very special. She captured the essence of who we are and our guests were bowled over by the the ceremony she helped create." (Heather, Bride)
Through attentive listening and skillful enquiry, I get to know you both and as our relationship develops, insights and stories emerge to form the basis of your unique and special ceremony.
Throughout it all, you are in control of the process and from our first contact the whole ceremony is tailored exactly to fit you both.  
Throughout the planning, creating and realising of your unique ceremony, I am your guide, coach and stalwart supporter…I will share what's possible and extend your horizons, but equally, if you know exactly what you want…that's great too.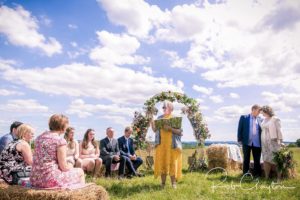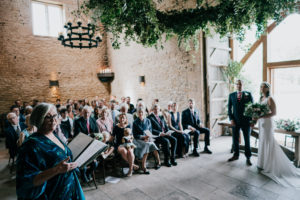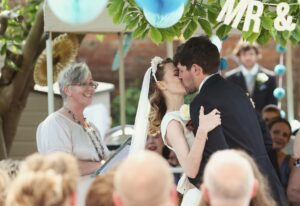 I am your ally throughout. So, whatever route we take together the result will be a great experience of working alongside me as your celebrant and a memorable and joyful ceremony which is perfectly pitched for you and your guests. Don't just take my word for it! Why not have a look at what other people have said and if you like what you see,  contact me now and let's start talking and planning #¥ourCeremonyYourWay!
Bespoke Wedding Affirmation Ceremonies.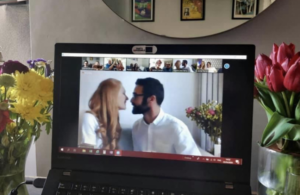 The pandemic has changed all our lives but love is not postponed, nor is your intention to wed. I can create for you a joyous ceremony where you affirm your intentions, joined by your family and friends from around the world!
Contact me now to discuss your ceremony.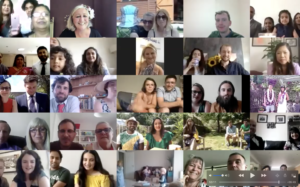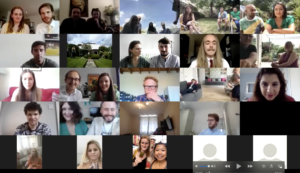 Look at those smiles! Don't think for one moment virtual ceremonies are any less personal, meaningful or joyful and you have a copy of the whole thing as a lasting momento.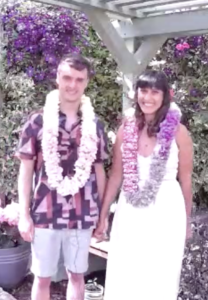 What do you get when you book me?
You might also want to look first at some of the kind words other couple's have shared to help you decide…
A warm, experienced and responsive celebrant, committed to creating and delivering an authentic, memorable and unique ceremony for, and with, you.
A celebrant who has experience of using a range of symbolic rituals
Guidance and support throughout – whether it's choosing music, readings or finding ways to involve significant others such as children, family and friends or even pets.
Vow writing or support and coaching in writing your own.
High quality writing of your individualised ceremony, including tweaks and edits – so it's just right.
A rehearsal at the venue before the ceremony, to help you both prepare.
Delivery of the ceremony on the day, in a place and time of your choice.
A presentation copy of your script.
A Fully Insured, Accredited and professional service throughout.
A celebrant who understands people and who is committed to celebrating you and your relationship, who can create unique and memorable ceremonies infused with humour, sincerity and joy.
Quality and professionalism:  As an accredited Humanist Ceremonies wedding celebrant you have the assurance of quality and professionalism, with a human touch.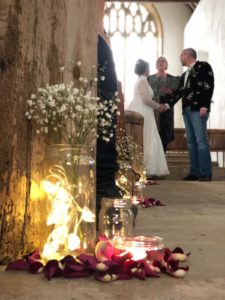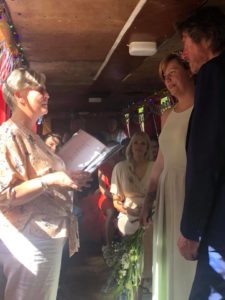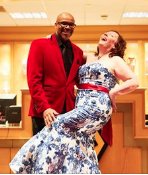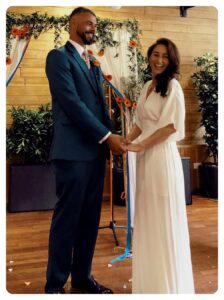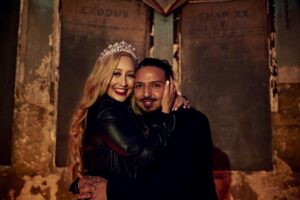 I celebrate weddings, vow renewals, elopements and commitment ceremonies in Spain and the UK so whether your big day is big or small, grand or simple, traditional or unconventional, in person or virtual, contact me now and we can start creating your perfect ceremony! 
I am skilled in a range of symbolic rituals including Quaich,  hand-fasting, sand blending and other unity ceremonies and will creatively adapt rituals to align with your values and personalities.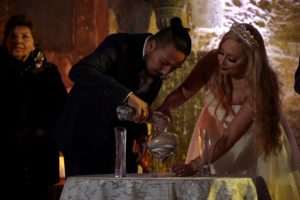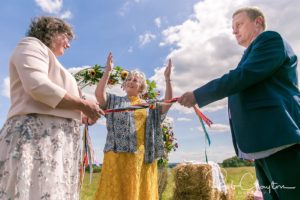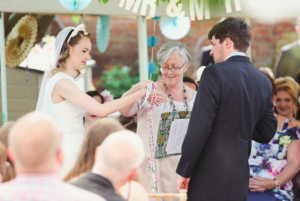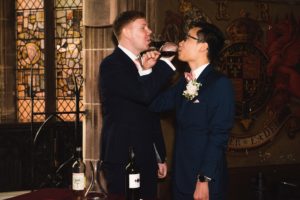 How does it work?
Contact me now tell me your dates and we can arrange your 'no obligation' discovery consultation. This will help you decide if we fit because that's a vital element in the process. After that, if you choose me, a deposit will secure your booking and we can get planning and creating. Simples.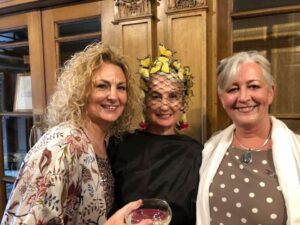 Next steps…It would be a privilege to become part of your story whether the setting is a beach or a barge; woodland or back-garden; marquee or manor house, rustic cortijo or in the Sierra Nevada! Contact me to arrange a 'no-obligation' meeting or call! Get in touch and we can start the journey together!….
Call Eliza
 Mobile: 07855453771
Email Eliza

A little about me…I became an Accredited Humanist Ceremonies Wedding Celebrant in 2018, after leaving a long and successful career as a psychologist in the NHS. I'm committed to making the most of this one life we have and of living it true to our values. I love people and have a longstanding commitment to supporting others with compassion, warmth and integrity – sprinkled with a lot of fun along the way.
Being a celebrant aligns my love working alongside people, in a joyful and meaningful way, and allows me to flex my creative flair and enables me to support people to realise their ambitions. It's utterly joyful to work with people in such a significant and positive capacity, at such important times in their lives, and I feel immensely privileged to be part of their journey! I've recently taken the plunge and moved the family to Andalusia to renovate our little finca in the mountains near Granada, learn Spanish and live life in technicolour! I'd love to hear from you if you're planning a ceremony in the UK or Spain so please, contact me now. Thank you!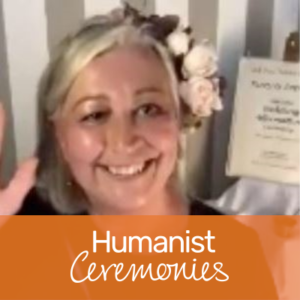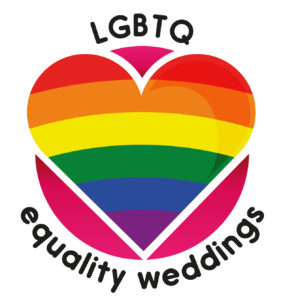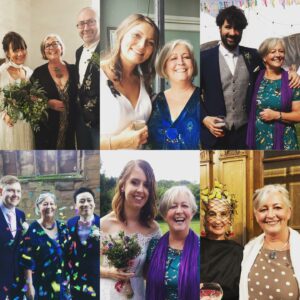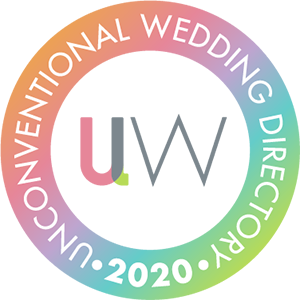 Follow me…..